C.N: Welcome sir. It's good to have you here. Can you kindly tell us about yourself?
H.A: Hello, my name is Hassan Ademola Aderinto. I am a recent graduate of the University of Ibadan, where I studied Medical Laboratory Science. I hail from Oyo State and I reside in Lagos State, Nigeria. I am also the president of Junior Chamber International Nigeria, University College Hospital, Ibadan.
C.N: Nice to meet you. Can you tell us a little about what your school experience at the University of Ibadan was like?
H.A: Well, I entered UI in the 2014/2015 session when I was admitted for the med lab course. Of course, it was kind of a hassle from the start coping with the university environment and making sure I kept up with both academic work and other spheres of life. I believe that you should always be exposed to extracurricular activities and strive to be a student plus, so while I was running my final year at my polytechnic course along with my first year of university, I also made sure I joined some organizations on campus. And there was also a time when I had to adapt to a new environment when I crossed over to UCH for clinicals in my 300level. So, in a nutshell, my journey was quite challenging. But overall, it is an experience I will never forget.
C.N: Wow! That's impressive. How were you able to find that much-needed balance between your academic and extracurricular life?
H.A: Ah! First of all, I am thankful to God for giving me the much-needed strength. To be honest, it has not been easy.
But I made time management my holy grail and one key thing I learned to do was to always show up and give my best.
I believe that if you want to get things done, the first step is to show up at the activity of those things that will enable you to achieve success. I tried to show up for almost all my classes so even if I didn't understand right away, it always helped when I was reading later on. I won't consider myself a first-class student but I managed to put in first-class effort into everything I did. Of course, I faced challenges, but in giving my best I was able to not only maintain balance but also achieve all-around success.
C.N: That is interesting. Time management, the holy grail. You mentioned you are the president of JCIN UCH, can you enlighten us on what JCIN means?
H.A: JCI stands for Junior Chamber International. It is an organization that was established in the US after the first world war. And of course, the aftermath of any war or crisis is always a breakdown in the economy of countries or the nation at large. The purpose of JCI was to mitigate the effect of the war by targeting youths who are considered the future of any nation. We are a youth membership-based organization that consists of young entrepreneurs and professionals that come together to develop themselves through various training to create positive change in the nation.
Our vision is to be the leading global network of young active citizens. We provide outstanding business and individual opportunities that improve the quality of life for any young person. The first chapter here in Nigeria started in Lagos and it was named Lagos metropolitan.
C.N: How did you hear about JCI and what led you to join the organization?
H.A: Well, I followed a friend of mine to one of their meetings when I was in 100 level and fell in love with the way they organized their general assembly programs and meetings. I've always been someone with a keen interest in capacity building, and seeing JCI with its sea of was one of the major reasons why I joined them. What appealed to me the most was the platform to have exposure to other soft skills, network opportunities, and also make an impact in my community. Also, it somehow managed to expose me to the corporate world and made me more serious with my life in general.
C.N: What are some of your core roles as the President?
H.A: Of course, the President of any organization holds a lot of responsibility and particularly in JCI, we uphold the standard of 365 days of service. My core role as the President of JCI is to be the general caretaker of the organization. I am expected to be the number one citizen that upholds the values of JCI and governs the affairs of his appointed chapter. I am also responsible for planning, coordinating, and supervising other executives and members.
C.N: I am aware that there was already a chapter on the University of Ibadan (UI) Main Campus. What was the inspiration for establishing a chapter in UCH?
H.A: For over a decade, the UI chapter has been very optimistic about creating new chapters around them especially in UCH in particular. We noticed over the years that we had a large number of members from UCH that experience difficulty going down to UI campus to attend meetings after they cross over to UCH for their clinicals. This problem discouraged those members from participating and being active in the organization. To solve that, the UI chapter decided to open a new branch in UCH which now has its membership extended to include all the departments in the College of Medicine and other UCH student programs. We also hope to reach out to more people through our programs and projects.
C.N: What qualities did you look out for when choosing the executives to lead the new chapter with you?
H.A: Hmm. Prior to starting the branch in UCH, we had about 40 clinical members in the JCIN UI chapter. These 40 members including myself came together to form the UCH chapter. When I was appointed President to lead JCIN UCH in its first year, I looked out for activeness and level of experience when choosing members to serve with me on the board.
C.N: Will you say that you had good coordination and rapport with your team members and how did that help with the progress of JCI in the long run?
H.A: That's a bit difficult to answer, but a leader can only aim to inspire his subordinates to serve. As a leader, I learned to consider others' opinions when relating with them and leverage the strength and availability of my board members for the greater goal of achieving the success of the organization. We ended up developing a good rapport and became more like a family.
C.N: Most of your tenure happened to fall during the period when the COVID pandemic was at its peak, so were there any challenges you faced during this period, and how were you able to overcome them?
H.A: I must give kudos to the set of board members that worked with me as they were very outstanding, determined, and were always there to support and do assignments given to them. They sacrificed a lot and without them, the JCIN UCH first year wouldn't have been a success. The major challenge we faced during the pandemic was that we had low attendance in our programs and all other activities which we held online. All the same, it was a rare privilege for me to have been blessed with selfless and very relentless board members that were at the helm of affairs of the organization.
C.N: Being its first year of JCI in UCH, can you say that you are pleased with the progress of the association so far?
H.A: (Shouts loudly) YES! If there is one achievement I had in the past year, I would say it is the success of the first year of JCIN UCH. This was due to the commitment and extraordinary service by the board members and also the entire membership alike in terms of their support and diligence.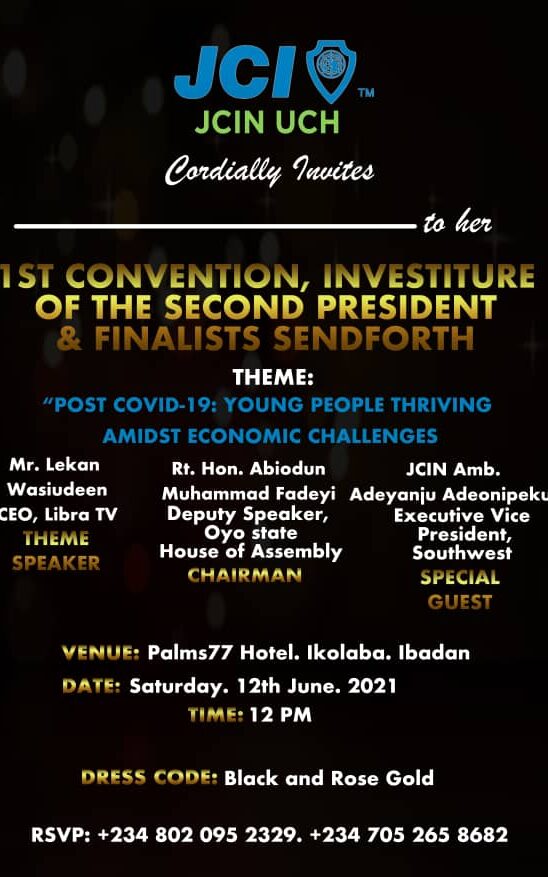 C.N: JCIN UCH Chapter is set to hold the "First Convention, Investiture of the Second President and Finalist Sendforth''. Can you give us more details about this event?
H.A: All local chapters of the organization have a convention at the end of every year. It is more like a handing over/award ceremony where we celebrate the end of the local organization year, hail the successes of the tenure, and also have fun. It is always a very special time for any local chapter. It is a one-day program where we have dinner, present awards, and welcome the incoming president. Also, the event has a theme on a subject matter that we invite guests to speak about. We host major dignitaries and of course, the major highlight of the day is to carry out the investiture of the incoming General President after an election must have been carried out at the last Annual General Meeting for the organization year. One can say it is a bit similar to any faculty award night.
C.N: This sounds elegant. What do people stand to gain from a program such as this one?
H.A: The convention is centered on a theme that has to do with a trending issue in the world which is "Post-Covid Effect: Young People Thriving Amidst Economic Challenges". On that day, we will present seasoned speakers such as the Creative and Movie Director of Libra TV who is someone with a creative mind and who has achieved a lot with his skills and innovative ideas. We will also have in attendance the Chairman of the event who is the Deputy Speaker, Oyo State House of Assembly, and our very own Executive Vice President as special guest and final speaker. I guarantee that people will learn a lot from the discussions and presentation of the theme. Also, the program provides a very beautiful environment to relax and network comfortably after a long time of self-isolation due to the lockdown which is more than enough reason for people to look forward to this event.
C.N: What surprised you the most while putting this convention together?
H.A: (Laughs)It has been a bit of mixed feelings for me. While it was the end of my tenure and I was planning my handover, I was also excited about the new chapter that was to come. As for planning the convention, of course, we faced some challenges but I must say again at this point that my board members have been doing an excellent job and are simply amazing. The highlight for me was fundraising for the program. The organization had built a wide range of networks to source funds which made the process surprisingly easy. In addition to that, reaching out to others for grants was also successful. I am very optimistic that we are ninety percent prepared for this convention.
C.N: Any advice for the incoming president of the JCIN UCH Chapter?
H.A: The incoming president is a brother and good friend of mine. We have been together in the organization for quite a while and he has been a strong pillar of support in my administration so I believe in his competence. My advice to him is to not relent on his commitment so far.
This Interview was conducted by Chika Nnawuogo.