One of the many remarkable things about Africa's political environment is the fact that Africa is the world's youngest continent, with 60% of Africa's population under 25. In fact, the gap between the age of some of Africa's long-serving presidents and the median age of their citizens is remarkable.
In Uganda, it's a whopping 57.5 years, while in Zimbabwe it's now 55 (down from 73). That's the same gap in Equatorial Guinea, where president Teodoro Obiang, 75, is Africa's longest-serving president. President Muhammadu Buhari of Nigeria turned 75 last year and the median age of Africa's largest country by population is 18.4 years, meaning a gap of 56.6 years.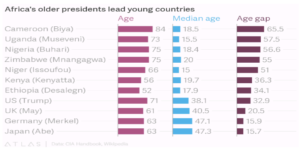 When former Zimbabwe president Robert Mugabe, 94, was unceremoniously marched out of the office he held for 37 years, hope remained that the moment could be a turning point in Africa's long history of "old men" running the continent. Well, Mugabe was replaced by Emmerson Mnangagwa, a 75-year-old onetime loyalist to the ex-president. Whoever says the youths are the leaders of tomorrow obviously hasn't been to Africa.
The term – nation building or national development, is usually used to refer to a constructive process of engaging all citizens in building social cohesion, economic prosperity and political stability in a nation in an inclusive and democratic way.
Going by the definition, that all citizens are to be involved in building or developing a nation. Thus, the involvement of youth in national development is a must. In fact, youths play one of the most important roles in nation-building.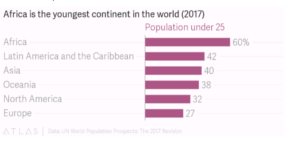 Youth are not only the leaders of tomorrow but also the partners of today. Young people are social actors of change and progress. They are a crucial segment of a nation's development. Their contribution, therefore, is highly needed.
They have bubbling enthusiasm which has to be regulated and utilized the right way. This can surely ensure rapid national development. After all, people can only exercise their full potential when they are young and energetic.
Youth is that period in which revolutionary thoughts spring to mind and these thoughts shape the world we live in. Bill Gates, the founder of Microsoft Corporation, is a living example. He had a revolutionary thought and he exercised his thought and see, how he has changed the world today!
The policies and development work of a nation can only be carried out by the youth, they are the social actors of change and progress. They carry out the policies and do all the development works which older people are incapable of actually carrying out. Older ones make policies and plans but the implementation is by young people. That's why youth are considered the pillars of development.
Youth constitute a major portion of the world's population. About 25 percent of the world population is composed of the youth. Thus, such a major portion of the population cannot and should not be ignored by any Nation striving for development in all sectors.
Young Africans today are taking actions that not only have an immediate impact but will also determine the future of the continent for decades to come.
Never has there been such weighty responsibility on the shoulders of young people.
Never has there been the influence in the hands of young people like the influence they carry now.
For Africa to reap the dividends she has longed for, it is up to the youths to ensure that influence is channeled correctly and directed towards relevant issues that affect not only ourselves but generations after us. This can only be achieved if we come together as young people and begin to address the challenges before us as a continent.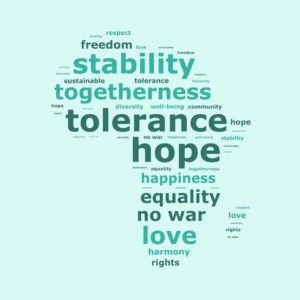 According to the World Bank, youth account for 60 percent of all unemployed people on the continent. Instead of succumbing to fear of these statistics, many young people have taken the entrepreneurship route, turning problems that they encounter in their communities into solution-orientated businesses.
The role of African youth is drastically changing, but so are some of the challenges we face, such as employability and entrepreneurship opportunities.
The strength of any society is within the strength and resolve of its youth – what investment are young people making in our continent today?