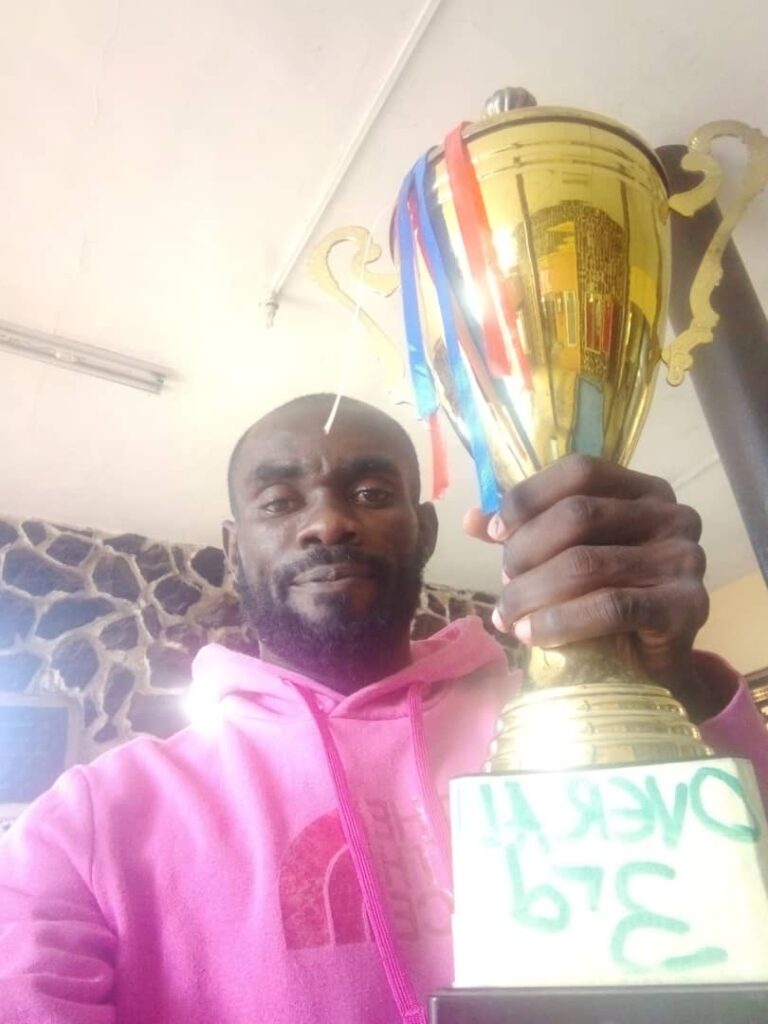 INTERVIEWER: Can we meet you.
SESUGH LORNENGE: My name is Sesugh Lornenge, I am a 600level medical student. I am the current Alexander Brown Hall sports minister and I have passion for sports particularly athletics.
INTERVIEWER: You represented UIMSA in the just concluded Inter faculty games, how would you describe the experience?
SESUGH LORNENGE: It was quite interesting, we were able to put up a good team with which we came home with 13 medals which ranked us second behind the faculty of education. I am so proud of my team where I happen to be the coach for this year and previous year.
INTERVIEWER: What would you say athletics is all about?
SESUGH LORNENGE: Athletics has two parts, the track and field events
The track event entails running.We had 100m, 200m, 600m, 800m ,1500m ,3000m 5000m, 10000m in this competition.In the field event there was javelin, discuss, long jump and high jump.
INTERVIEWER: How many people were on  the College of Medicine athletics team?
SESUGH LORNENGE: Basically we had a total number of 12 people that actually participated and a lot of them won medals.Personally I had 5 medals; 3 gold medals in the 1000, 5000, 1500m race and I had two silver medals in the 800m and 3000m race.We also won a bronze medal In the 10000m, gold medal in javelin,  silver medal in short put.
In the female category we won a silver medal in 400m, two gold medals in the field events javelin and discuss and we had a bronze medal in the 4 by 100m relay race.
INTERVIEWER: Have you  participated in other competitions before?
SESUGH LORNENGE: Yes, for UI sports this is my third year participating. I have participated in Inter-hall competition where I won three medals.I also participated in the previous Inter faculty games before this one, where I also won 5  medals.
INTERVIEWER: Compared with the other competitions, how would describe the planning and preparations for  this year's game?
SESUGH LORNENGE : I think this year competition is better, as there was better planning and certificates was even given at the end of the games
INTERVIEWER: Since when have you had passion for athletics?
SESUGH LORNENGE: Well it didn't start long ago,  when I was in 300level that was when I attempted competitive sports, athletics.  There used to be a maranthon organised by the then SU, Students Union. I decided to participate in the games and after the games I ended in sixth position and every other person ahead of me was in THE UI School team but because of our schedule I couldn't join the team. From there I saw that I had the ability to actually run so I started training on my own and I improved.I enjoyed it.
INTERVIEWER: What other hobbies do you have?
SESUGH LORNENGE:  I also watch sports.
INTERVIEWER:  How do you combine your academics with athletics?
SESUGH IORNENGE: One thing is that we waste a lot of time doing nothing, so if we are able to manage our time well it is very possible to combine both and do well.
INTERVIEWER: How would you describe UIMSA support towards the team during the competition?
SESUGH LORNENGE: UIMSA was very supportive.There was water, glucose. They were always checking on us and trying to make sure everything was in place. We were also transported throughout the games.I give them kudos. They did a very wonderful job
INTERVIEWER: Is there any plan to get more members, maintain the team for the sake of continuity?
SESUGH LORNENGE: I am really hoping for that with the crop of people in the team.They have the zeal and I believe that they are going to keep the fire burning. Soon I  would be out of here and it will be on them to make sure everything is fine. I believe there would be a continuity because some people are already looking forward to taking over when we leave.
INTERVIEWER: Is there anything else you would want to tell us?
SESUGH LORNENGE:  In sports, passion is what will carry you  but not just passion you need to be discliplined. It is not everyday you feel motivated.If you want to be a good athelete, you need to have disclipline because you cant give what you don't have. When you see people run on the track for one minute or less and they win medals.
They did not win the medal that day, it is what has been done behind the scene that earn them the medal so preparation is a key to being a good athelete
INTERVIEWER: Thank you very much for joining us at UIMSA Clinical Press
SESUGH IORNENGE: You are welcome