Football, with a total of about four billion fans,is the most popular sport in the world. It was known initially as Cuju when the first game was played in the third and second century BC in china. Like every other known sporting activity which has gained popularity in some way, Football is no exception as it has produced a large number of the greatest sportsmen and women that are widely recognized today. Notable ones include the likes of Peter Schmiechel, Ryan Giggs, Erica Cantona,the popular Pele , Diego Maradona, Ronaldinho, including the only African ever awarded the most coveted prize of the FIFA world's best footballer (male), George ķWeah. All these individuals possessed amd demonstrated different qualities that endeared them to the minds of their loving fans,such qualities as knowledge and use of extra ordinary skills,goog sportsmanship, humility,amongst others.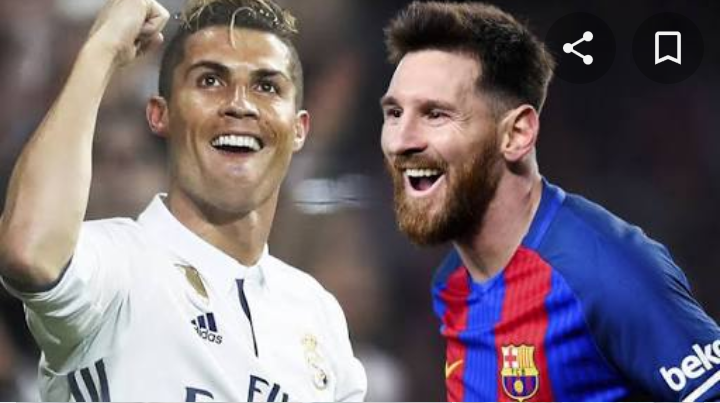 Rivalry has been known to be an integral element of football, like any other sport, especially,as it rekindles the spirit of competiveness and it never dies. It is always renewed among coaches, managers and players. The last twelve years brought a new dimension to the history of rivalry in football, as no one ever predicted that the world of football would be completely dominated and ruled by just two individuals – Lionel Messi and Cristiano Ronaldo. These two individuals via individual brilliance ,hardwork and continual support from fellow team players,family,friends and their ever growing fan base, fulfilled an untold prophecy and brought great joy to football fans. Messi or LM10 and Ronaldo or CR7 as both are usually reffered to by their fans have made football such an enjoying game that even non-football lovers feel the impact of these two players when mentioned by their football-phillic friends. Essentially, this dominance of theirs earned them the title – the greatest footballers of all time, G.O.A.T., for short.
Expectedly, controversy as to who should solely earn that title between the two of them has always been a cause of usual heated argument amongst their differet loyal fans. Usually, the criteria used by most fans depends greatly on personal convictions and loyalty to their most preferred player between the two. To some, the influence of the footballer on the team either at the club ot country level matters most, others consider the number of trophies won, individual awards, records broken or set, demonstration of different skills, etc. to choose who will be their own G.O.A.T. Whatever the criteria maybe, one undisputable fact remains- LM10 and CR7 are the best footballers since the era of modern football begun two decades ago.
Statistically comparing them, both of them have won combined 63 trophies in the last 12years (Ronaldo 29, Messi 35), in about 150 tournaments and over 1500 games played. Comparatively, Messi has a better scoring average (0.8) than Ronaldo (0.72). Also, despite having played 145 games less than Ronaldo, Messi has scored only 23 goals less. Worthy of note too, is that throughout his career, Messi has only played for Barcelona, asides representing his country, Argentina, at international competitions while Ronaldo has played across about 4 different leagues; Sporting Lisbon, Manchester united, Real Madrid and Juventus (where he is currently), scoring and winning different awards at the different clubs. This shows that Ronaldo is more versatile than Messi. Despite having won more trophies, Messi has no major International trophy he can be proud of, compared to Ronaldo who has won about two major international trophies for his country. Could we say this shows who's more patriotic? Also, the annual highly revered award of FIFA's best player and Ballon D'or award has been won severally and multiple times by these two legends-to-be. Ronaldo won his first in 2008, only for Messi to scoop his first's, too the following year. Since then, no other player was adjudged to be a worthy recipient, until 2018, when Luka Modric of Croatia and Real Madrid broke the decade-long dominance. This year, Messi emerged again as the winner of the award, making it his sixth, while Ronaldo has 5.
Comparatively, these great footballers have had a handsome share of their persistence, consistency and hard work well paid off as these qualities have brought them not just fame, endorsements but even cute kids and wives. Hopefully, as they might be thinking of taking a long, unending break from football in about two years or more, largely due to "ageing", youngsters like Rashford, Alli, Mount would gladly step in their shoes and fit into their footsteps to produce more entertaining football whilst enjoying the growing rivalry among themselves.
On any day, I would choose Lionel Messi over Cristiano Ronaldo as the greatest footballer of all time, because I think his style of play is too unique to be easily copied and he has mastered the art, science and even the philosophy of football. Who will you choose and why??
Written by: Saliyu Basit