Over the past few years, Marvel Studios has shown great interest in investments in TV shows as well as their movies, going to such lengths as having their parent company – Disney – create its own streaming platform to exclusively air these series for their viewers. It hasn't been without positive returns either, as releases such as WandaVision, Falcon and the Winter Soldier, Loki, and Moon Knight were the talk of fans for weeks.
Last week, a new hero by the name of Kamala Khan (played by Imani Vellani), joined the ranks of the Marvel Cinematic Universe's superheroes. In the recent Ms Marvel series, Kamala is a young immigrant whose parents relocated to the United States from Pakistan and is still trying to live a normal teenage life while struggling with freedom in her conservative household. Kamala is a die-hard fan of the Avengers, and her biggest dream is simply to go to Avenger Con. with her best friend. However, her parents turned down her wishes (something a lot of us went through in our youth).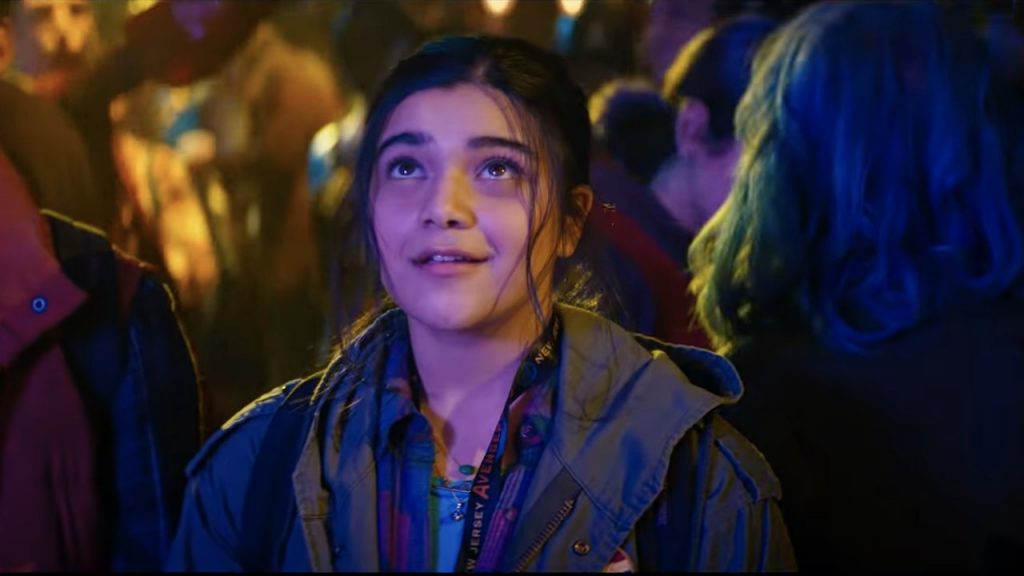 Admirers of the show enjoy its uniqueness. Rather than fitting the trope of making the protagonist's story revolve around the fact that she's Pakistani or that she is Muslim, it simply narrates, as stated by Vellani herself on The Daily Show with Trevor Noah, the tale of how an "Avengers-loving, fan-fic writing dork who just happens to be Muslim and Pakistani", became a superhero. The show seamlessly incorporates diversity and naturally blends the character's Islamic culture, rather than using it as the main element of their characterization.
Interestingly, the lead actress, Iman Vellani, who MCU enthusiasts have fallen in love with, almost missed this opportunity that has become her breakout role. Being a Pakistani immigrant and a Muslim herself, one could say that she was born for the role. Not only that, but being an avid reader and fan of the Marvel Comics, she already had an affection for Kamala's character from the comics, donning a Ms Marvel costume for Halloween when she was fifteen; but the comic book hero had very little publicity then so Iman had to buy a Ms Marvel comic and hold it up to stop people from confusing her with The Flash.
The casting call for the Ms Marvel show got to Vellani via her aunt and a WhatsApp forward chain, which normally would call for suspicion. That was not the case here as Marvel called her back and asked for a video audition, which she postponed doing due to procrastination and finally submitted at 3 am on the day it was due. Two days later, Disney called saying they wanted to fly her to L.A.
Vellani was on the verge of joining the film franchise she was obsessed with for years. After living in a small city in Ontario, Canada for over 16 years, she was on her way to film her show and become a household name. Filming for the show concluded in 2020 and with that, Imani has had two years to live a somewhat normal life; a rarity for actors. "I've essentially been given a countdown to fame", Vellani said in a recent interview with Elite Daily. Still, Iman lives in Ontario in her home town of Markham. "It is a nice town; I think I need to live in a place that grounds me. L.A. is definitely not that. You can't really escape the industry living here."
Vellani, however, had stayed determined to avoid being the next "Tom Holland" and refused to share any information (read as spoilers) on the future of her character within the show. The Ms Marvel series has captured the hearts of many young fans. The series is currently ongoing for the next 4 weeks and the character is set to return in 2023's MCU movie "The Marvels", alongside Brie Larson's Captain Marvel. Its stunning visuals, immersive shots and attractive special effects have kept people on the edge of their seats wanting more of the great storytelling. It now has a rating of 97% on Rotten Tomatoes and positive reviews all over the internet so it must be doing something right. If you do not believe that, why not tune in every Wednesday and find out.
Ijoma Chidimma