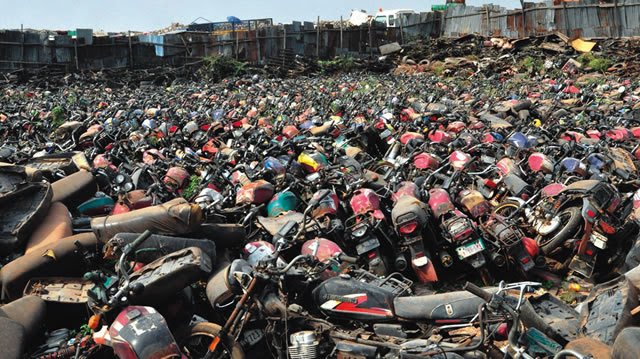 February 1 would become a historical day for the residents of Lagos, Nigeria's most populous city. This is sequel to the ban on the use of commercial motorcycles and tricycles, popularly known as okada and keke Napep respectively, in major parts of the city. The ban went into effect on February 1 and prohibits drivers from using a number of routes in Lagos. Six local governments and nine local council development areas are among the proscribed areas. They include Apapa LGA, Apapa Iganmu LCDA, Lagos Mainland LGA, Yaba LCDA, Surulere LGA, Itire-Ikate LCDA and Coker-Aguda LCDA. Others are Ikeja LGA, Onigbogbo LCDA, Ojodu LCDA, Eti-Osa LGA, Ikoyi-Obalende LCDA, Iru-Victoria Island LCDA, Lagos Island LGA and Lagos Island East LCDA.
Why the ban?
On January 27th 2020, Gbenga Omotoso, the State Commissioner for Information and Strategy, cited a 2018 law- Lagos State Transport Sector Reform Law 2018 which restricts the activities of the operators on major routes and bridges. The Deputy Governor, Obafemi Hamzet, emphasized that the ban was important to improve provision of adequate security for the lives of its residents, noting that the use of commercial motorcycles and tricycles is not in the blue-print of the Lagos the administration has in mind. He also said the ban was aimed at reducing the high rate of accidents recorded from the use of these means of transport as the last few months have recorded accidents emanating from them.

How has it affected Lagos residents?
This ban was received with mixed feelings among Lagos residents. Majority, particularly commuters, showed displeasure at the enactment of the law because they would begin struggling with fare hikes and getting onto packed public transport. In addition, the drivers of these vehicles will be left without any source of income.
Agencies like Gokada, Max.ng and ORide have had to lay off their staff as their transport services are no longer required with respect to the new rule.
Also, the bad shape of most roads in the city is not making transport any easier for automobile owners as they complain of increased cost of repairs. Most people have to walk long distances to get to work because of inadequate alternatives to okadas and kekes.
Many commuters who will rather take an okada to work have had to resort to either driving, which means more cars on the roads and so more traffic, or take public transport like many others, which means longer queues for bus. Loss of productive time has been reported due to workers spending more time in traffic.
What is the government's response?
The Lagos state government says it has added 500 extra buses to minimize the ban's disruptive effect, although complaints of inadequate alternatives for a ban of this magnitude have been made. Alternative jobs have also been promised for those who lost their jobs following the ban. In spite of all that has been said and done by Lagos residents, the Lagos state government continues to defend it's decision, stating that it was necessary to maintain law and order in the city.