First things first, Hip-Hop is not dead in the 234 (shoutout to everyone who said, "Rest in peace Uncle Phil" internally). I'm tired of the endless rants by those seeking to convince others as well as themselves that the culture is dead, and that Nigerian rap in particular has no value. For anyone insistent on revisiting that conversation, here's a quick summary:
Even at its peak, Hip-Hop was not the most dominant genre in Nigeria.
Yes, it suffered a decline in the mid to late 2010s.
That decline was not the fault of one individual (swallow that MI/Olamide ruined hip-hop retort)
Yes, indigenous rap has indeed been successful.
The genre has seen a resurgence post-2019.
Lastly, Nigerians listen to a lot of hip-hop, but sadly, most of it is foreign.
Therein lies the purpose of this article: equal parts education for folks who might have realized the error of their ways and equal parts recommendations for the average music lover. It's my hope that after reading, you also listen and then do some discovering of your own to pick more from the Naija rap scene.
For this article, I'll be focusing mainly on projects released in the last half-decade. In my non-humble opinion, these projects represent the best of the best across multiple styles and sub-genres.
Clone Wars Vol. IV: These Buhari Times – Show Dem Camp (2019): Believe me when I say that is one of the best albums (period!) to emerge from Nigeria in the last ten years. The 14-track album released by the veteran duo, Ayeni Olumide (Ghost) and Ogunwale Davies (Tec), who go by the name Show Dem Camp, is a testament to the power of lyricism as a vehicle of social enlightenment. It also served as the 4th instalment in their Clone Wars series, with Clone Wars 1, Clone Wars II: The Subsidy, and Clone Wars III: The Recession being the predecessors.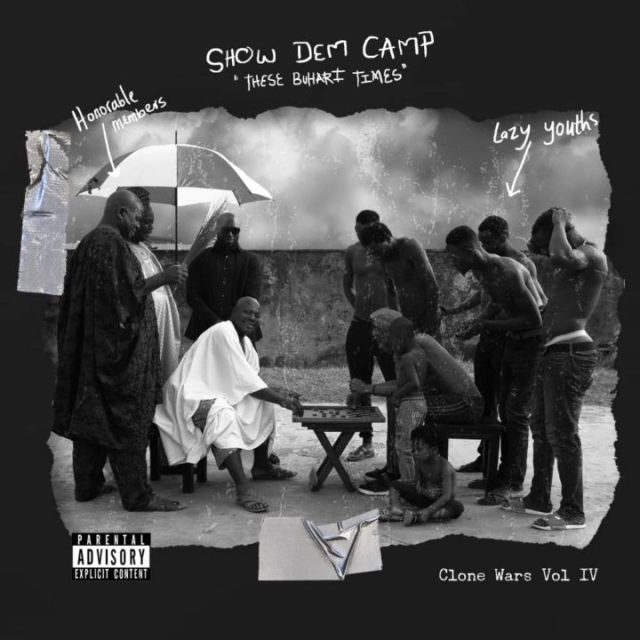 Over sublime production by Spaxx, and with an array of stellar features from LADIPOE, Ozone, Tems, MI Abaga, Vector, Cina Soul, the duo managed to express the multiple emotions and experiences of young adults living in one of the most depressing periods of the 4th Republic. On tracks like Packaging and Respect, Loyalty & Honour (with Mr Incredible himself), they tackle the different aspects of the art of hustling in Lagos, take deep introspective dives on Duade and Shadow of Doubt, paint vivid images of the horrors of Nigerian life on Epigenetics, Hunger Cries and 4th Republic, and close it all off with No White Flags, a declaration of resilience in the face of it all.
"Ever felt like you're in a low-budget Nollywood flick and it's a crash scene,

The Naija version of Groundhog Day and you're stuck in this re-occuring bad dream,

I swear my country's a cocktail of absinthe, codeine and caffeine,

Bar tender said there's four more shots,

There's generational trauma going on here, and like Karma the b**ch won't stop"

from the chorus of Epigenetics are one of many moments in this project that highlight the power of social commentary using 16s.

P.S: Bonus points should be awarded for Boogey's verse on Tipping Point, man. What a scheme!

Cult! – Paybac Iboro (2020): In 2018, Paybac released The Biggest Tree, a genre-bending melancholic album on depression through the eyes of a young rapper living in Lagos. It was quite the shock at the time. A concept album on mental health? By a Nigerian? And almost one whole year before MI Abaga released the critically acclaimed A Study On Self Worth: Yxng Dxnzl which also delved into mental health. That project marked the beginning of his ascent from the dark fringes of Nigeria's underground rap scene and placed him on the radar of culture observers and hip-hop heads nationwide.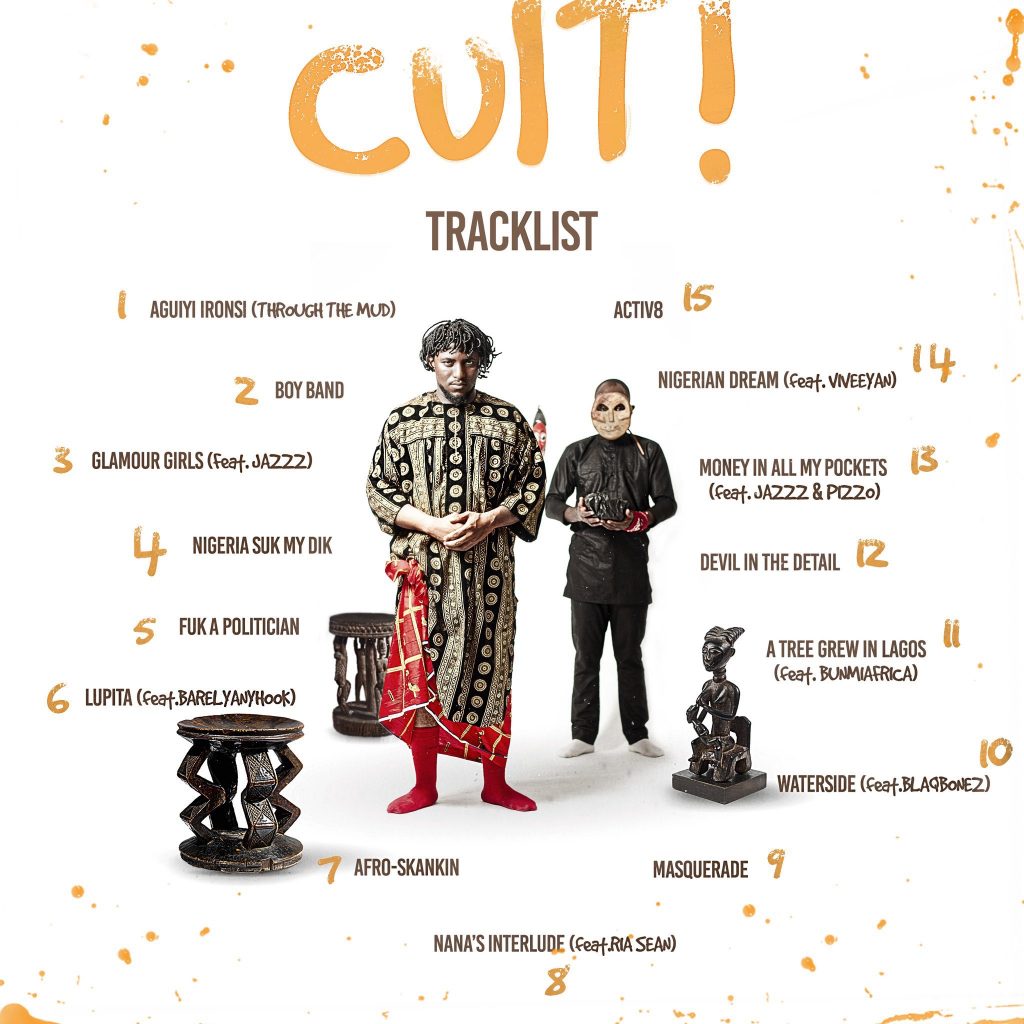 Not one to subvert expectations, Paybac returned in 2020 with Cult!, re-affirming his position as one of the best minds in Nigeria's hip-hop scene. A semi-continuation of the mental health theme prevalent on The Biggest Tree mixed with experimental production and Iboro's nasal yet velvety delivery of exquisite writing. Paybac was in his God damn bag! As soon as that Fela Anikulapo-Kuti sample drops on Aguiyi Ironsi (Through the Mud), one can tell that the rapper was out for blood. Cult! contains socio-political tirades in the form of Nigeria Can Suk My D*ck and Fok A Politician (a song I genuinely feel could soundtrack the next youth uprising). There are also the Childish Gambino-esque songs, Boy Band and 007 Afroskanking, beautiful in their deviation from normal music theory.
At the 32-minute mark, and deep into the album listening experience, Paybac hits you with A Tree Grew in Lagos, the crowning jewel of this work of art. "This is who I wanna be, just to find peace" he croons, mournful violins in the background begging you to hear his cries. So much so that when the outro, Activ8, comes on, you cannot help but sing with him – "Young Samuel Okwaraji, I'm balling till I pass away". It's one of those albums that shines in its raw portrayal of the artistes as mere mortals (shout out to Mr Morale!). Features on Cult! include Barelyanhook, Blaqbonez, Viveeyan and Jazz Attah.

God's Engineering – A-Q (2020): By the time he draws the curtains on his career as a rapper, the man Gilbert Bani, would have successfully staked his claim as an all-time Nigerian music great. Top 10 lists would be chuck full of the name A-Q. Both mainstream and underground heads would unanimously agree to his placement in the pantheon of legends.
The Genesis? 2020's God's Engineering? This is not to say he has not paid his dues; Afterall, his grind can be traced as far back as DaSuKi's 2006 album, A Lyricist's Manifesto. However, it was on this album that Q, for many, really became Q. Not on Son of John 3. It was not on the Headies-nominated, Roses; not on Blessed Forever; and not on Crown (with Loose Kaynon in 2018).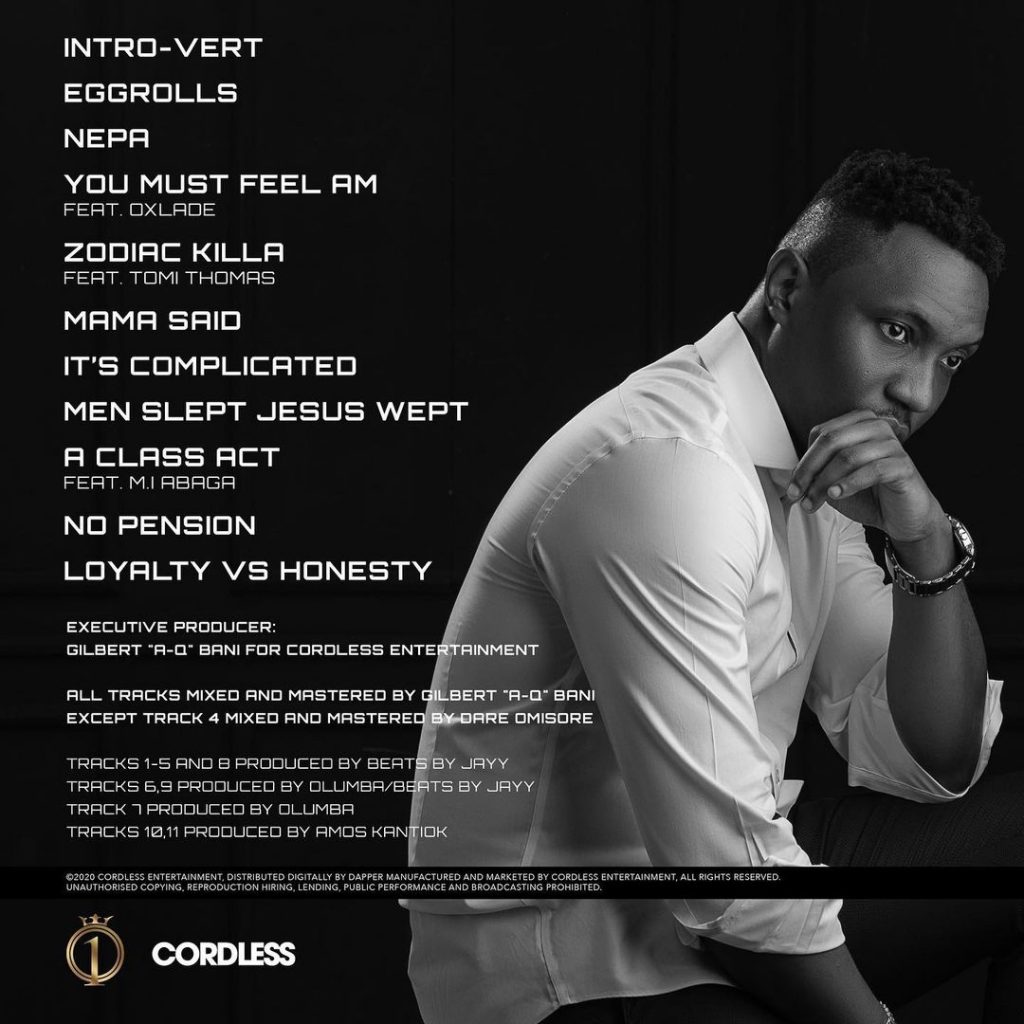 Released under 100 Crowns (an imprint of Chocolate City), God's Engineering is one man's successful attempt at condensing a decade's worth of industry navigation into 11 tracks. On personal records like Intro-Vert where he confesses his fears, Mama Said, Men Slept Jesus Wept and my personal favourite, A Class Act (featuring MI Abaga), A-Q shines his brightest. He sounds like a man who has faced his fair share of struggles and come out undefeated but who might perhaps have done several things differently.
Zodiac Killa is his manifestation of a younger J Cole sans the Born Sinner album. Nepa is a dig at younger rappers unwilling to put in the required effort. Track 10- No Pension -, the penultimate record, is the highlight of this Headies-winning masterpiece. Here, Q sheds insecurities and offers prayers on a somewhat grand, yet lo-fi, instrumental from the producer, Amos Kantiok. 36 minutes and 45 seconds of luxurious Adult Contemporary Hip-Hop, and inarguably the best Nigerian Rap Album of 2020.
God's Engineering was mainly produced by the late Beats by Jayy and features MI Abaga, Tomi Thomas and Oxlade.
(to be continued…)
John Eriomala