Ayoleyi Hanniel Solomon, popularly known as Reekado Banks who is one of the most popular hip hop artist in Nigeria announced his exit from Mavins record, following the expiration of his deal with the music label. Following his signing to Mavins record in 2013, Reekado Banks was declared the rookie of the year at the Headies 2014 and won the controversial Next rated award at the Headies in 2014.He took to Instagram some days ago to announce his exit from the renowned record label.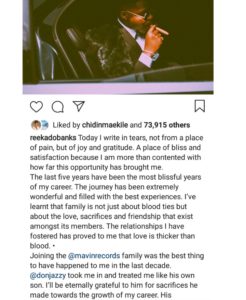 Since it has become the tradition of many Nigerian artists to unveil their own record label after exiting their previous label, Reekado Banks was not left out ,as he unveiled his own record label "Banks Music".
With all the accolades that has been earned by the talented artist, we can only hope that he continues to churn out good music following his departure from Mavins record.
BY NAPOLEON TEJIRI