Phew!!!!! The football season is gradually coming to an end. After a tumultuous start to a season, we have finally come to the end. Teams were relegated, dreams were shattered, records were broken, various teams had their highs and low and new talents emerged. These are notable moments that we witnessed before the football season in Europe came to a wrap.
LEWANGOALSKI: THE GOAL MACHINE THAT WON'T STOP SCORING
There's no doubt that Robert Lewandowski is currently the best striker in the world. After leading Bayern Munich to a haul of trophies last season and winning UEFA best player of the year in the process, he just led the Bavarians to their 9th consecutive Bundesliga title. He currently matches Gerd Muller's record for most goals in a Bundesliga season after bagging 40 goals. Bayern Munich definitely felt his absence which was due to Injury during the knock out stage of the UEFA champions league where they got eliminated by Paris Saint Germain. Cheers to Lewandowski and hopefully he continues to grace the pitch by scoring more goals and breaking more records.
P.s: He is the highest goalscorer in Europe biggest 5 leagues this season.
SENIOR MAN KELZ AND HIS REDISCOVERED FORM
Kelechi Iheanacho burst into the limelight after his spectacular display at the 2013 FIFA U-17 World cup where he represented Nigeria. He had a 6 goal helluva and 7 assist which was enough to lead the country to glory. He got signed by Manchester City after the competition where he began his senior career. He had the best goal goals per minute ratio in his debut season in the premier league racking in a goal every 93.9 minutes.
He eventually got picked up by Leicester City and after making rounds as an unused substitute, he recently became a fan favourite after leading his team to FA Cup glory. He scored a brace against Manchester United and the only goal against Southampton which was enough to take them to the finals.
He is currently a FA cup winner and he currently has 19 goals across all competitions this season. He seems to have cemented his place in his starting 11 of the Foxes and is their current talisman.
Nigerians are still waiting for him to cut soap for them anyway.
CR7 AND HIS ANTI-AGING FORMULA
Cristiano Ronaldo is regarded as one of the best to have ever graced the game of football and still lives up to his name. Despite having an abysmal season with Juventus that saw them leaving the UCL and them potentially losing their spot at the competition the next season, Cristiano Ronaldo is still having the time of his life. Despite being at the ripe age of 36, he keeps scoring goals that are unlike players his age. He currently has 36 goals in 44 appearances this season, making him the 3rd highest goal scorer in Europe biggest leagues this season.
The Portugal talisman will be leading The SELECAO to the Euros this season where he wishes to add the winners' medal to his Medal cabinet.
A LEGEND OF LIVERPOOL, THE SAVIOUR OF GLASGOW
It's Steven Gerraaaaaard is all the fans need to hear from the commentator for them to realise that he has scored a wonderful goal for The Reds. After etching his name in the legend books at Anfield, he decided to make his name in the realm of coaching. After signing for Scottish team Rangers in 2018, he just led them to their first Scottish Premiership title in 10 years after completing the whole season unbeaten. A 4 nil drubbing of Aberdeen in the 38th game of the season ensured the Rangers attained Invincible status, making them the 4th Scottish team to achieve this commendable feat. They had a total of 102 points ( The first in the club's history), scoring 92 in the process and conceding just 13 goals.
As a manager, he has a win percentage of 65.88 % having coached 170 matches, winning 112, drawing 37 and losing 21 games. There are rumours that he's set to replace Jurgen Klopp at his former club Liverpool FC but not definitely next season.
Stevie G has left his footprints in the rocks at Glasgow and heavens only know what record he is set to smash yet.
LA LIGA TITLE: DOWN TO THE WIRE
What started as a 11 point lead led to a 3 legged race which is currently a two club affair. Strange, right? This aptly describes the scene in the Spanish La Liga as the race comes to a close. Athletico Madrid were clear favourites as at game week 20 but alas, how quick the table has turned?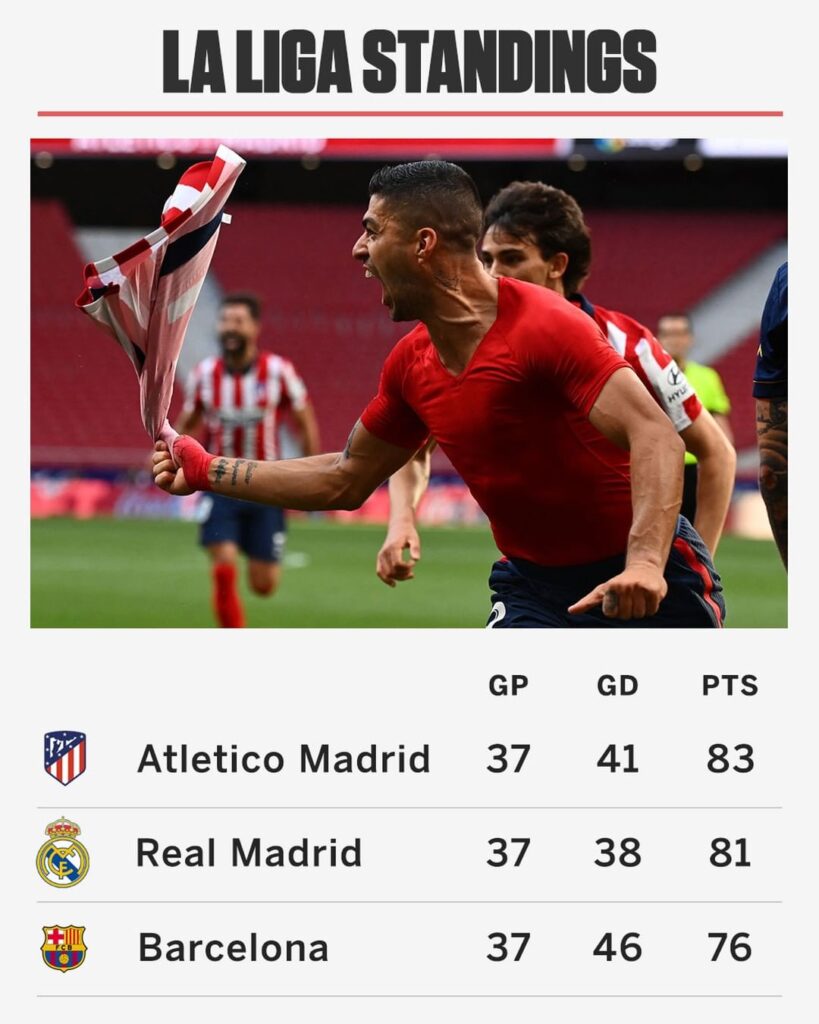 The events of the last game week will determine the outlook of the league. Will Diego Simeone finally lay his hand on the trophy that has eluded him for the past 7 years? Will Zinedine Zidane win the coveted title just as he did the previous season? Will Athletico Madrid be the new Champion of Spain? Will Real Madrid retain their bragging right as the best team in Spain albeit their disappointing exit to Chelsea in the Ucl?
Time would tell.
Time would tell.
Abdulazeez Abdulsobur Olatunde
Preclinical Press