Hey there! Are you in love with Pizza? Do you feel like eating it everyday but can not due to the high cost of it? It can be quite distressing when we have to spend at least #3500 to get good Pizza just because we have to satisfy our cravings. Therefore,to celebrate the World Food Day today, UIMSA Press brings you the simplest and fastest way to make delicious Pizza in our homes and rooms.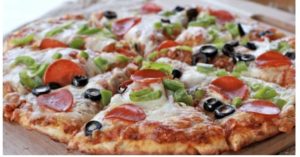 INGREDIENTS
QUICK HOMEMADE PIZZA SAUCE RECIPE
1 tablespoon olive oil
½ cup white onions, finely diced
2 large cloves garlic, minced
14.5 oz can diced tomatoes (drained and pureed)
1 tablespoon Italian seasoning
1 tablespoon parmesan cheese
1 teaspoon brown sugar
½ teaspoon red pepper flakes
½ cup chicken broth
splash of red wine (optional)
QUICK HOMEMADE PIZZA CRUST (12 inch pizza)
1 cup very warm water
2 teaspoons sugar, divided
1 packet active dry yeast
2½ cups all-purpose flour (sifted)
1 teaspoon salt
2 tablespoons olive oil
1 heaping teaspoon Italian seasoning
1 heaping teaspoon parmesan cheese
TOPPINGS
Mozzarella cheese
green bell pepper, diced
black olives
turkey pepperoni
Cook time
12 mins
INSTRUCTIONS
-For the sauce….
-Add olive oil into a large skillet over medium heat.
-Add onions and sauté until tender.
-Stir in garlic and cook just until fragrant.
-Stir in pureed tomatoes, Italian seasoning, parmesan cheese, brown sugar and red pepper flakes.
-Slowly stir in chicken broth.
-Bring to a light boil and then reduce heat to barely a simmer.
-Cook until liquid is reduced to your liking.
-Taste and adjust seasoning see note below
-To make the crust, in a small bowl or glass, add 1 teaspoon sugar to very warm water.
-Stir in yeast and let sit for 10-15 minutes to allow the yeast to proof.
-When yeast is ready add mixture to a large bowl.
-Stir in flour, salt, remaining sugar, oil, Italian seasoning and parmesan cheese.
-When dough forms, place dough on a lightly floured surface and kneed gently with oiled hands.
-Press the dough into a lightly greased 12-inch pizza pan. Be sure to keep your hands oiled with olive oil to soften the dough and make it easier to press out.
-Cover dough with plastic wrap and place in a warm location for 30 minutes. (see note)
-Preheat oven to 425 °F.
-When ready to serve, spread sauce over pizza.
-Top with cheese and toppings.
-Bake for 12 minutes or until the crust in the center of the pizza is fluffy and fully cooked.
-Garnish with fresh basil if desired.
-Slice and serve!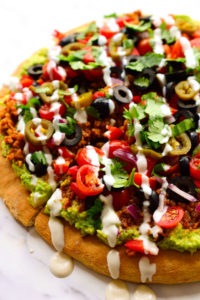 NOTES
Pizza Sauce:
*Depending on how salty your chicken broth and tomatoes are you may or may not need to add salt. Be sure to taste and adjust the seasoning to your liking.
* If you prefer a smooth sauce simply place the sauce in a food processor and puree.
Pizza Crust:
* You can totally get away with letting the dough rest for only 5-10 minutes, but if you like a bit of a fluffier crust 30 minutes in a warm and toasty location is a good minimum.
BY JUMMAI SADIKU