A Nigerian soldier has narrated how over 70 soldiers of the Nigerian Army were killed by Boko Haram terrorists during an attack at Metele village in Guzamala local government area of Borno State, an attack he survived.
According to a report by Premium Times, terrorists had overrun the 157 Task Force Battalion in Metele during an attack on Monday, November 19, 2018, carting away large cache of arms, ammunition, and military equipment after leaving the base strewn with the corpses of dozens of soldiers.
An account by a soldier who survived the attack noted that their location was invaded after Boko Haram allegedly issued a threat letter last Friday that it would soon take over four strategic military locations around the Lake Chad region.
He said, "The attack came at about 6 pm on Monday evening. When the soldier on top of the observation post alerted that a large number of Boko Haram fighters were advancing, we all got alarmed as we took cover and waited within the base in Metele.
"The fight did not last for more than 45 minutes, but it was bloody because the Boko Haram fighters had more armament advantage than the soldiers.
"When we realised the fight would be against us, we decided to retreat from the camp, but it was rather too late. The camp was surrounded with barbed wire, and the enemy fire was coming from the direction of the entrance. We were like surrounded.
"One of the drivers of the gun trucks decided to push through the barbed wire so that other vehicles could follow and escape, but the truck got stuck, that was how many of our soldiers in other vehicles and those on foot were massacred.
"Those that managed to escape with injuries made it on foot through Cross-Kauwa to Monguno where they boarded commercial vehicles, some even sat in the booth of the Golf cars to get to Maiduguri.
"The Boko Haram made away with about seven gun trucks of the Nigeria army."
The soldier also disclosed that attempts to evacuate the bodies of the fallen soldiers from the battlefield were repelled by terrorists.
"As I am talking to you now, we have about 70 corpses of soldiers littering the battleground in Metele and when we went to evacuate them on Monday, the Boko Haram gunmen came out in large numbers from all angles – so we had to abandon the corpses after just picking five of them. We left most of the corpses there as I am talking to you now," he said. "Our lives don't matter", soldier cries out.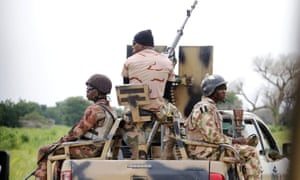 The soldier further lamented that troops are facing serious challenges of inadequate ammunition and motivation to properly defeat Boko Haram's nine-year insurgency.
Soldiers fighting Boko Haram in the northeast have repeatedly complained about inadequate equipment and lack of proper welfare. He said soldiers are being killed in the most undignified manner almost on a daily basis because of lack of resources to prosecute the battle, a situation he said has led to loss of morale among troops.
He said, "We need the world to hear how we are being sent to slaughter as though our lives don't matter.
"Some few weeks ago, about 75 of us from our own unit here in Maiduguri were deployed to the front line and it took the grace of God for about 40 of us to return alive".
"When we returned and gave our complaint, we were asked to go back again to Metele, an area near Kangarwa forest, and we have been there for about three weeks now fighting a defensive battle.
"We beg the Nigerian media to help us by echoing out our muffled voices. The children of poor Nigerians have been turned into chicken meant for easy sacrifices by our commanders.
"We are being killed on daily basis as if our lives don't matter. Of course as soldiers we signed to lay down our lives in defence of this country, but certainly not in the manner we are being presented for slaughter without dignity. A soldier should die fitting and not being chased or overpowered.
"Our morale has been dampened so badly – not only because we are not given our due allowances; but for the fact that we have been outgunned by the Boko Haram.
"The situation has gone so bad that it has gotten to a stage that soldiers would be rushing to pack up their camps and flee upon hearing the news that Boko Haram fighters are advancing.
"We have suddenly lost our spirit of launching attacks because of lack of resources to prosecute the battle. Many of us are ready to do our best, but there has been no requisite support from those sending us out there.
"The media need to give this clear picture to the world – Nigerians need to know what we are facing here in the battlefield. Only some of us that escaped managed to get to Maiduguri on Tuesday, but many others are yet to surface.
"The fact of the matter is that we still have a very large number of Boko Haram terrorists out there. As far as the Nigerian army is concerned, it will take more than ten years to chase out Boko Haram from our hinterlands, without the help of foreign forces.
"We can only brag that we can defeat them; but in reality, we lack the capacity to do so, given the kind of approach we accord to prosecuting the war."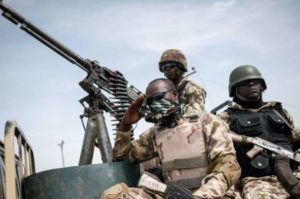 Boko Haram had carried out a similar raid on a 157 Battalion outpost in Metele in October and killed about 18 soldiers with dozens also reported missing.
Nigeria is home to an estimated 6,900 terrorist fighters, report indicates
Since Boko Haram's insurgency escalated in 2009, the group has killed tens of thousands of Nigerians as well as displaced millions who are scattered in internally displaced person's camps.
Even though President Muhammadu Buhari declared in 2015 that Boko Haram had been technically defeated, the group has carried out several deadly attacks since then, with an increase in the number of attacks on troops happening in 2018.
According to a report by a United States-based think tank, the Center for Strategic and International Studies (CSIS), Nigeria belongs in the group of countries experiencing a significantly high amount of violence due to terrorist activities, most notably from Boko Haram and its faction, the Islamic State West Africa Province (ISWAP).
The report constructed a data set of terrorist groups and fighters from 1980 to 2018 and estimated Nigeria's number of terrorist fighters to be between 3,450 and 6,900.
The report noted that most countries, including Nigeria, who are most impacted by terrorist activities are at or near the bottom 10% of countries worldwide in terms of government effectiveness.
"Most are also in the bottom 10% of countries worldwide in other governance indicators, such as control of corruption," the report read.
The report concluded that poor governance indicators make it difficult to be confident that terrorism and insurgency will end in the foreseeable future.
CULLED FROM PULSE.NG