An indispensable player for the class and the department as a whole, a skilful player that leaves his opponents trailing in his wake, a lifesaver for the team and an overall achiever that dazzles both on the field of play and academics. This baller needs no introduction. Read on as we interview a worthy contestant for the Sportsman of the year.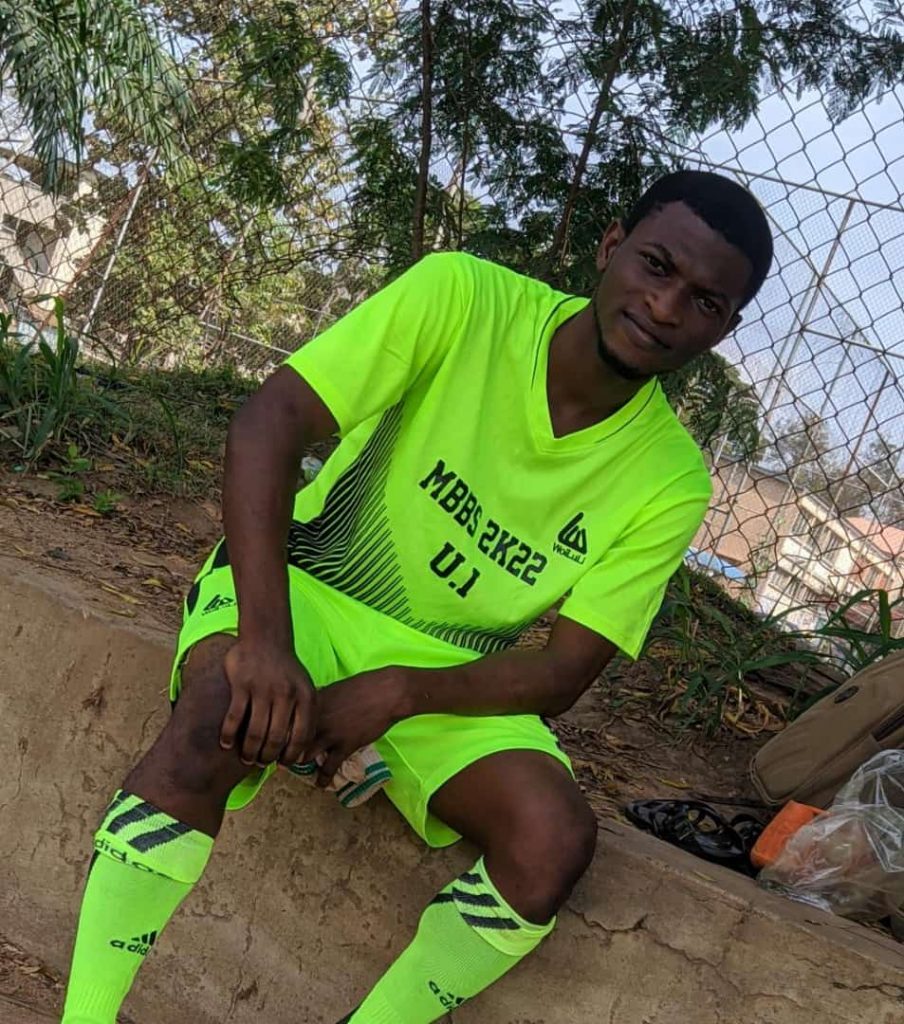 Before we proceed with this interview, can you rate your current best 3 sportsmen in the world?
I'm a Ronaldo's fan. So, I will go with Ronaldo, Messi and Salah.
Thanks for that awesome reply. It's expected from a football prodigy like you.
They are the role model for every young player. So, I think it's almost the same for everyone.
Some people will beg to disagree though since you put CR7 ahead on your list. That's aside, can you kindly give a brief introduction about yourself?
Everyone is entitled to their individual opinion. By the way, I'm Akinlabi Habeeb Opeyemi, a 300 level medical student at the University of Ibadan, a Manchester United Fan, and a football fanatic.
I can definitely deduce that football is your favourite sport. What made you develop a love for the game?
I guess it came naturally to me if I am being honest. Also, I was looking for a medium to meet up with people and breakthrough from my comfort zone and football was the perfect outlet. To date, most friends I have are directly or indirectly from football.
Hmmm. A very valid reason. At what age did you start playing football?
It should probably be around age 7 when I went to spend a holiday at my grandma's place. As I said earlier, I was an introvert but her place gave me the avenue to mix with a lot of adults and I played football with them. I started out as a Goalkeeper initially and the brothers in the hood taught me, corrected and even disciplined me a bit when I made mistakes leading to the goal. As a fellow footballer, You also know how painful football can be.
No wonder all these experiences made you into the player you are now. Tell us more about your journey into the skilful player you are now. What happened after you left your Grandma's tutelage? It's quite a story and I hope you are ready to make your ear full. I started playing for the class as a right back in Primary 5 and I recall being adept at it. Also, I do recollect being flogged on getting home because I do use my school uniform to play. At a point, I remembered that I used two separate uniforms in class five alone (one for football and the other for normal school activities).
Life was great back then. Another reason was the presence of many football pitches in my area then. So, after getting home from school, it's straight to the football pitch. During my junior school days, teachers complained a lot about my devotion to football but they had to leave me since it didn't affect my academics at any point. Also, I guess my resilience on the pitch of play is modelled after me playing with touts and louts over the years.
Wow. This is very revealing and I had no doubts this really influenced you a lot. Your style of play is a dynamic one. What is your preferred position of play? Describe your style of play. Also, which players influence the way you play?
I like playing on the left wing or on the left side in a 3-man midfield pivot. About my style of play, I adapt easily to any formation or tactics that the coach decides and I regard that as my strong point.
My influences over the years have changed. Earlier on, Arsenal's Theo Walcott was a great influence although I now admire Kylian Mbappe a lot. I also appreciate Eden Hazard during his earlier days at Chelsea when he dazzled the world with his wonderful footwork.
There must be a secret to the way you create a show on the field of play. Do you have any pre-game ritual and who do you enjoy playing with most in the class?
There's no secret at all. I just make a short prayer before each match and that's all. Quayyum Alabi is a maestro in the midfield and I admire his work rate and I enjoy having him on the team. Moshood Fuhad is a beast up front and I enjoy giving him balls to score.
Who has been the hardest player you have faced so far and what memory of a match still remains evergreen on your mind?
Amos from the department of Pharmacy has been the most difficult player I have encountered so far. A very skilful player who doesn't think twice before knowing what to do. The loss against Chemistry is still the one that I can't erase from my memory. I remembered being stretched out from the pitch and 2 goals being scored against us in quick succession. Yeah, that's an experience I wouldn't like to relive.
MBBS 2K22 have had some interesting moment. Some matches were nice and others went awry. What you will like the team to achieve?
The ultimate reward is winning a Gold medal in any future competitions. It has eluded us for a while and I believe it's within our fingertips. It has always been our aim and will always be.
How does being a footballer inspire you to do good? And also, how does football make you a better student?
Doing good? Goodness comes from the heart. Football sharpened my mind and opened me to a world of possibilities. Football, being a team sport makes me look at the world from a brand new perspective. You have to receive passes and give passes to other players. In real life, you also have to receive help and help others too to achieve a common goal.
The fact that you are an awesome footballer doesn't impede your academic prowess. You perform excellently in all your tests and you are also renowned for your brilliance. How do you combine being a genius on and off the pitch?
Genius? I'm not. About the brilliance on and off the pitch, that's a gift from God, I believe. I also don't understand how I combine it all. God has been grateful all this while and I think a combination of hard work, dedication and focus has been working all these while.
Thanks so much for your time.
It's been a pleasure.
ABDULAZEEZ ABDULSOBUR OLATUNDE