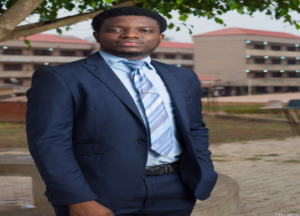 UIMSA Press: Can we meet you?
Chairman: My name is Akintoba Emmanuel Akingbade
UIMSA Press: When is the UIMSA election holding this year?
Chairman: The UIMSA election will be holding in August, immediately after health week.
UIMSA Press: We learned that voting this year will be done online, what prompted this decision?
Chairman: A lot of things prompted this decision. It is a new thing and a nice thing to do as previous elections were done by ballot voting. Another thing is the ease it affords the electoral process.
UIMSA Press: What of people that may not have mobile data, how do you intend to cater for them?
Chairman: That may be unlikely, however, there will be multiple stations for those who truly do not have internet access to make use of commissioned internet enabled computers to vote.
UIMSA Press: What have been the attitude of UIMSAites towards elections in recent years?
Chairman: UIMSAites typically turn out for elections. The turnout in the preclinical school has been on the rise. In Clinical school politics have been an avenue to unwind and try focus after school work. Overall, UIMSAites have good attitude towards election.
UIMSA Press: Have there been situations in which UIMSAites do not vie for some political positions?
Chairman: Well that happens, there seems to be positions that have been "restricted" to some classes. For example the position of the president seems to be "restricted" to the final year class not because of lack of better persons, it is a kind of an unwritten rule; maybe because of experience. However, these individuals will be screened by the electoral committee, and will be vetted on the press night such that electorate will know for sure who to vote for or against.
UIMSA Press: Are there fixed prices for the executive position yet?
Chairman: The prices for this year executive positions will not be changing from the previous year , most likely will be the same though still subject to the final decision of the electoral committee.
UIMSA Press: What are your expectations from UIMSAites for the elections ?
Chairman: I have very high expectations from UIMSAites , considering the fact that this will be the maiden edition of "total electronic elections". I expect UIMSAites to turn out and vote. To be able to vote, UIMSAites need to register online. The pre-registration is still on @ member.org.uimsa.ng. Get your name registered and verified.
UIMSA Press: When is the deadline for the registration?
Chairman: The deadline for the registration will be one week to the elections.
UIMSA Press: Do you have any advice for UIMSAites ?
Chairman: Go get registered online in readiness to vote, if you are planning to vie for an executive or legislative position start planning. Elections this year will be fast this year. They should look out for notice of elections.