On the second episode of the Big Talk, we have the pleasure of having the company of a public speaker extraordinaire, the immediate past president of the Alexander Brown Hall Literary and Debating Society (ABH L&D) famously known on social media as 'THE SOCIETY', Mr. Omotosho Busayo.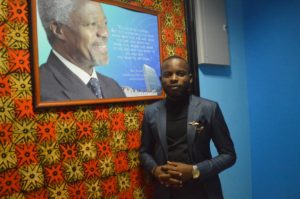 We are pleased to have you sir
Thank you for having me.
Well, let's get straight to it then. I'm curious, why is there only an ABH L&D? Why is there not a UIMSA L&D?
There are peculiarities about ABH & the different departments in it. There is no UIMSA L&D because if we had one, other associations will also need to have theirs and it would seem unfair, bringing a lot of politics into it. We would prefer to stay united as a family and avoid all that politics.
You spent 3 years in the L&D, how would you describe your time there?
I have to say, it has been an interesting and fulfilling journey. When I initially joined, we had just concluded the JAW wars in which we performed really poorly. The goal was to make sure that there was never a repeat of that and over time we have consistently improved; winning the hall of residence category last year and the faculty category two years earlier.
A lot of people only know about JAW WARS, could you let us know the other competitions the L&D participates in?
Two years ago, the faculty of dentistry (also part of ABH L&D) won the Bola Ige interfaculty debate. The year before that, we also won the Lanre Bello competition. In addition, we won the SCHOLA (organized by Law students in UI) this year, the debate at the Alakija conference in UI, where ABH beat Queen's hall again in a repeat of the JAW WAR finals to show it was no fluke (laughs) as well as the Pharmacy students national debate competition held at UI.
That's a very long list of honors. Your tenure seems to be a very successful one which has not always been the case for the L&D. What exactly has been the secret to this unbridled success?
I would say that our ability to remain united as a family has been our biggest secret. We keep saying that to ourselves and it has helped us overcome numerous challenges. There was a case where an orator prepared a speech and thought she was going to deliver it in a competition but the central executives had other ideas. It was initially a hard pill to swallow but we handled the issue like a family and resolved it peacefully. As a rule we do not vote as a house on issues like "who participates in a competition", because such things tend to bring about friction and polarize the family. We prefer to discuss it amongst the central executives till we come to a decision and it has worked very well for us so far.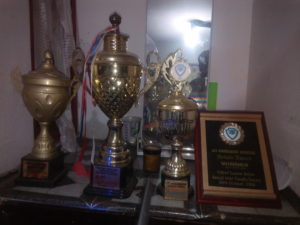 Interesting, because this brings me to my next question. How do you manage the big egos in the house and keep orators happy and fully committed to the team even when certain decisions might hurt their pride?
The first thing we try to ensure in the L&D is that we're a family and then we actually put you through things that'll make you understand our kind of family. We make sure we don't try to pamper our members. If for example we know that you don't like speaking, we'll keep on giving you speeches to deliver until it becomes a part of you. Initially, there's the pain but eventually you'll get used to it.
And what if the person decides they've had enough and walks away?
Well, what we do is that we try to make you understand the reasons why we do certain things and that it's for your own good; you're not just being targeted for nothing. Everybody goes through the same process, including myself. In the end, you feel the rewards after some initial pain. In some cases, we've had to give a break to some people. For example, orator Remi, when he was going for SDO Clinicals, we excused him for a year so he could handle his office well while some other organizations might have reacted differently.
How have you been influenced or changed in your 3 years in the L&D?
We call ourselves "the society". One thing I have learnt is to stand for the truth. Wining is not always the most important thing. The society adopts a quote by William Penn, "In all debates, let truth be thy aim; not victory, or an unjust interest." So I have learnt so much from applying that in what I do.
I'm sure our readers can learn from that too. Tell us about your interest in public speaking; has it always been there or it's a sort of an acquired taste?
Ever since I was a young child, I've always imagined myself speaking to a large group of people. Some of my friends saw me muttering and probably thought I had gone nuts so I would say it's always been there. I came to UI and won my first Cicero in 300 Level and then failed to qualify for the finals of warden's challenge which was a huge shock for me. I say this so that people know that it has not always been a rosy journey. But then I won Cicero for the second time consecutively and I was so elated.
What important lessons have you learn from your public speaking career?
What I tell people is " Never aim to do the ordinary because, you will not win; Never aim to do the extraordinary because you might never even write that speech; rather do the ordinary and add a little spice to it until people start calling it extraordinary" . That's the goal; that's what has gotten me through the years, even in the ABH L&D leadership.
Advice to upcoming public speakers and those who are too afraid to fail…..
Always try to be different by doing things in a memorable way. Don't just aim to write an ordinary speech. Anyone can write a speech but you have to keep practicing until you become outstanding.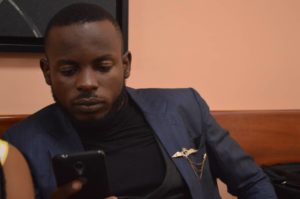 Best and worst moments in public speaking?
Best certainly was winning Cicero for the second time. I was so excited. Worst was failing to qualify for warden's challenge.
Advice to your successor, Mr. Ojo Charles
Mr. Charles is really an amazing administrator who is cool-headed and knows how to handle and listen to people well and that's why he was chosen to be president. I would advice him to be himself and not to be under pressure to do what I have done. He'll be judged based on his results.
What do you think about Brownites' attitude towards the ABH L&D and the present crop of speakers in the L&D
I really have to appreciate Brownites for their support and sacrifice including missing school and the late nights just to turn out en masses to give us their support. My heart goes out to all of them. I also want to let them know that they should remember that the L&D are also there when they're voting for the best organizations as so far……. we haven't won (laughs).
For the present crop, I think we have well prepared and capable members. We've organized public speaking seminars, the Akinkugbe oratory competition and even a public speaking workshop for the UIMSA senate and we get well paid for all these. Last year, our revenue increased from #10,000 in the previous tenure to over #100, 000 with a gross profit of about #80,000. We're also planning on organizing a workshop on how to write CV's and applications for programs like YALI. So I think our upcoming speakers have so much potentials and talents
Impressive. So what do you do with all that money? (laughing)
We also use some of the money to organize our programs and invite some public speaking experts. So we spend some money in order to make more money.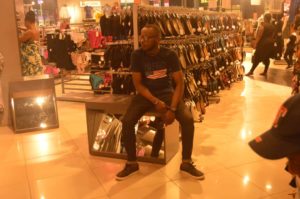 This  has really been enlightening. Shout-outs?
My shout-out goes to Subomi, Temiolouwa, Jumoke (in Physiotherapy) who take really good care of me, Charles and the present crop of executives, Eunice, Johndaddy, Nonso and Ayodeji. These guys supported me like family.
This has been fun. Thank you so much. You"ll probably have a lot of phone calls after this.
That brings us to the end of this episode. Join us again for another interesting session. Send in your questions, suggestions and contributions to uimsaclinicalpress@gmail.com or contact +234 810 293 0730.
Anchor: Odigwe Bryan