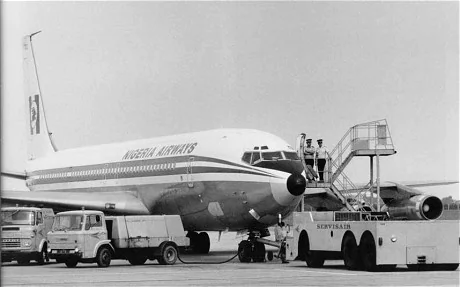 December 31st 1983, the Nigerian government (headed by the democratically elected President Shehu Shagari) was overthrown in a military coup led by Major-General Muhammadu Buhari, and a new military government led by Buhari was established. On his second day in power, Buhari issued a list of former government officials accused of a variety of crimes.
Umaru Dikko, the transportation minister of the Shehu Shagari administration was at the top of this list for supposedly embezzling several billion US dollars (sources claim that the amount was around 6 billion US dollars) in oil profits from the national treasury, subsequently he was labelled "Nigeria's most wanted man". Dikko fled to Britain, settled in London, and became a vocal critic of the regime in exile.
No politician symbolised the graft and avarice under Shagari's government more than the combative Transport Minister Umaru Dikko, In many ways Dikko became the 1980s answer to first republic Finance Minister Festus Okotie-Eboh who was similarly disliked by army officers, leading to his assassination during a military coup in 1966. Dikko perhaps thought himself untouchable because he was President Shagari's brother-in-law and had the President's ear, but all that would change after Major-General Buhari took over and made it known that his regime would target corruption and corrupt former ministers.
With Nigeria's most wanted man on the run, an unexpected partnership between two countries that didn't have formal diplomatic relations was formed to bring Dikko back to Nigeria. The subtle ties between The State of Israel and the Federal Republic of Nigeria based on Israel's supply of arms to Nigeria and Nigeria's supply of oil to Israel was enough for Israel's intelligence agency, Mossad to partner with the Nigerian Security Organisation to complete the mission.
Six months after the start of Buhari's regime, on 30th June 1984, and after an European wide search for Umaru Dikko, he was eventually spotted at Queensway, West London by a Mossad agent. The next two days were used by the Nigerian Agents to plan the Kidnap operation of Umaru Dikko, while the Mossad agents watched his residence. As part of the Kidnap operation, Levi-Arie Shapiro, an Israeli doctor who was a consultant anesthetist and director of the intensive care unit at HaSharon Hospital was flown into London to drug Dikko and ensure he safely made it to Nigeria without succumbing to the complications of anesthesia.
3rd July 1984 a Nigeria Airways Boeing 707 arrived at Stansted Airport from Lagos. The aircraft had arrived empty, and the pilot notified the authorities that the plane had arrived to pick up diplomatic baggage from the Nigerian high commission, but due to the presence of several Nigerian security agents on the plane, the Scotland Yard special branch was alerted. At that point no apparent action was taken by the Scotland Yard.
The next day, 4th July 1984, Umaru Dikko was kidnapped in front of his home while he was out for a walk and taken away in a van. The kidnap was witnessed by Dikko's secretary, Elizabeth Hayes, who quickly contacted the authorities. Given Dikko's profile as a former Nigerian government minister, the call was quickly escalated and within minutes police arrived at the scene, closely followed by officers from Scotland Yard's anti-terrorist squad. The Foreign Office and the Prime Minister Margaret Thatcher were also alerted. All customs officials at airports, ports and border crossings were told to be extra vigilant with regard to Nigeria bound vessels.
By mid-afternoon on 5 July 1984 Dikko had been anaesthetised into unconsciousness by Dr Shapiro, locked into a crate and taken to Stansted airport. Shortly before 3 pm two crates labelled "diplomatic baggage" and addressed to the Nigerian Ministry of External Affairs in Lagos were being loaded onto the Nigerian Airways plane. The crates were 1.2 meters in height, 1.2 meters in depth and 1.5 meters in width. They were accompanied by Major Yusufu(a former army officer & the man in charge of Dikko's kidnap) and a member of the Nigerian High Commission in London named Okon Edet.
A British customs officer noticed an unusual medical smell, probably of the powerful medical anaesthetic sodium thiopental, and a noise emanating from one of the crates. This gave the officer enough reason to search the crate despite Major Yesufu's vehement protest that the crates had diplomatic immunity. An unconscious Dikko with his torso bare would be found in the first crate, with an endo-tracheal tube in his throat to prevent him from aspirating. He would later gain consciousness 12 hours after totally oblivious of the ensuing drama and his dramatic rescue.
The Governments of Nigeria and Israel would immediately deny any form of involvement, and of the original 17 suspects, 4 were tried and sentenced as follows after failing to convince the Judge they were mercenaries acting on behalf of Nigerian businessmen
Alexander Barak – 14 years
Mohammed Yusufu – 12 years
Levi-Arie Shapiro – 10 years
Felix Abithol – 10 years
The Dikko affair would then lead to diplomatic relations between the UK and Nigeria breaking down till it was fully restored two years later in 1986.
Dikko was eventually invited back to Nigeria in 1995 by the military regime of General Sani Abacha, who was a member of the government which tried to kidnap and forcefully repatriate him in 1984. On his return he formed a political party called the United Democratic Party (UDP). Dikko died on 1 July 2014 in London, where he was said to be receiving treatment for an undisclosed illness.
Ireoluwa Adegoke.