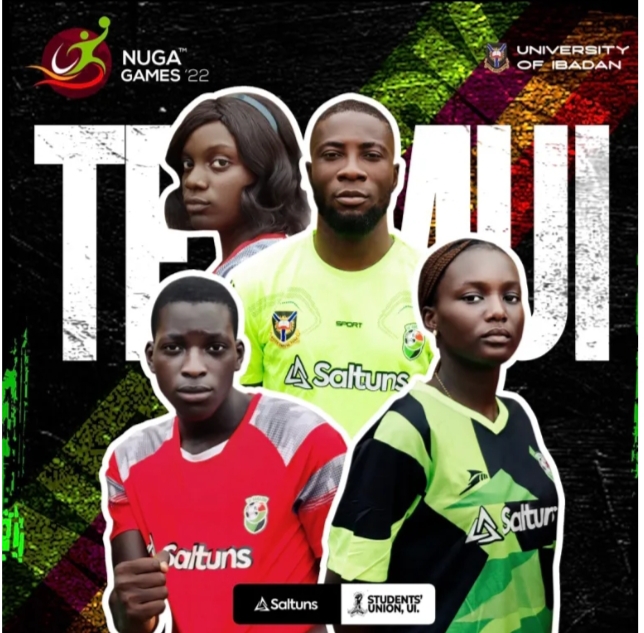 As the 26th Nigerian University Games Association (NUGA) Games approaches, the University of Ibadan Students' Union has on the 12th of March unveiled the jersey for the football team. The new look drives many thoughts to the head, however the sportsmen are not taking their eyes off GOLD. Despite suffering a loss at a friendly football match at the hands of Oluyole Flaming Queens FC, the teams recorded victories in different sports during the Zone B preliminaries held at the University in January.
The new look of UI players is something to talk about. "With the sponsorship of Saltuns, one of the top graphic designers in UI, the launching of this jersey has been made a reality. Working with him has been amazing." –Olawale Joshua Babatunde, UI Students' Union Sports Secetary
The President of the Union, Adewole Adeyinka (Mascot) also expressed his gratitude to Saltuns Designs for donation of the jerseys for the female team which has contributed to the motivation of the ladies.
The last edition of the NUGA Games was held at Makurdi in 2017 where University of Lagos received hosting rights for the next edition. An initial postponement and the COVID-19 pandemic has prevented the games from holding since then.
With the increased motivation from the new Saltuns-sponsored jersey and the heightened anticipation for the Games which commences on the 16th of March, University of Ibadan is set to make an unbeatable record in Lagos.
Olatokun Shamsudeen Akano