The much anticipated Nigerian Medical Students' Association (NIMSA) games tagged "SCONGAILORIN '18" has officially come to an end.
The event which held between August 26th to September 1st at the University of Ilorin, had lots of mixed feelings on the part of the UIMSA team. Sad to note was the fact that there was no female in the team flying the "UIMSA flag" . With a total of about 14 participating universities, the event was fun-filled with lots of positive experiences for the participants. Though the UIMSA team received transportation assistance on their way to the host school and on returning, some of the sportsmen made complaints to what they saw as a perceived lack of support from the management during the inter-games in comparison to that received by their counterparts from other medical schools. The UIMSA team experienced a lot of challenges in settling into the host environment, worsened by lack of transportation from accommodation site to the stadium, lack of incentives for sportsmen, lack of first aid care especially for injured football players, all crucial to the well-being and activity of the players which could have been easily avoided if they had adequate support from the management. As such, UIMSA team crashed out at the football and chess events, male category.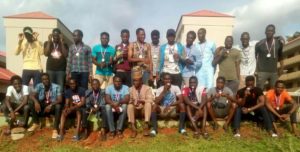 Against all odds, Team UIMSA still stood strong and clinched lots of medals at various men's events. These include:
Gold medals – Swimming (50m and 100m breast stroke)
Silver medals- Scrabble, Checkers, Swimming (50m freestyle, 50m and 100m butterfly stroke, 200m individual medley) and Lawn tennis (singles and doubles).
Bronze medals: Basketball, Table tennis and Swimming (50m and 100m backstroke).
Below are the medals table for the NIMSA games: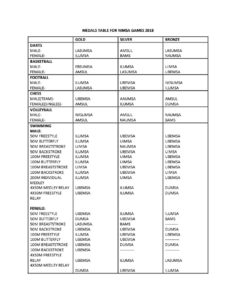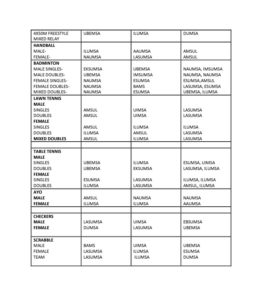 We congratulate the UIMSA male team for a job well done and hope for participation of the UIMSA female team at the next games.
By Chukwuelobe Onyedika