Ever planned to write on a certain topic and then moved in a similar yet different direction as you researched? No? Well, that's what happened to me. The article you're currently reading was meant to be a commentary on the state of competitive scrabble in Nigeria, inspired by the soon-to-be-held UIMSA Interclass Scrabble Competition and the triumph of Enyi Emmanuel, captain of the University of Ibadan Scrabble Team, at the 2022 Emmanuel Egbele National Scrabble Tournament.
However, while researching, I stumbled on a piece of previously known trivia; a Nigerian took first place at the 2015 World Scrabble Championship. Well, now that I've typed it out, it does appear like an insignificant piece of information. But it isn't. This win is significant in that not only was Nigeria the world leader in terms of the number of scrabble players (at the time) but it was also the first time an African emerged champion at the competition.
Thus, I chose to instead focus on the individual who achieved this amazing feat and what his journey has been like.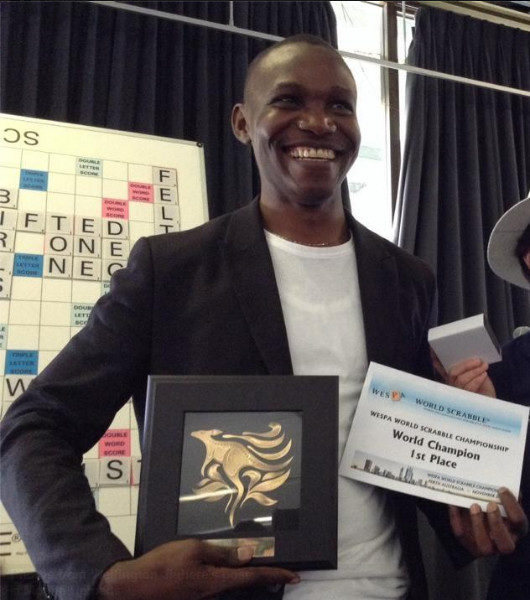 Becoming Wellington
Wellington Jighere was born in 1982 in Umolo-Olomu, a town in the Ughelli area of Delta State. According to him, he was a bookworm while growing up; excelling academically and even aspiring to become a doctor at one point. His early education was first in Edo state before he went back to Delta to acquire secondary education.
His journey into the world of Scrabble started in 1996 with an introduction by his immediate elder brother. Jighere was a natural at the game and eventually started participating in competitive scrabble in 2002. For him, it wasn't enough that he was good, but that he became the best player in Nigeria; a dream that was realized in 2007 when he became the highest-rated Nigerian player.
That ranking was enough to secure his place at the 2007 World Scrabble Championship in India. There, Jighere shocked the Scrabble world by finishing 3rd, a feat that had never been accomplished by an African. He went on to win the African Scrabble Championship the following year (his first of two). This result placed a lot of expectations on his shoulders; players all over the world took it as a sure indication of a first-place finish at the 2009 Worlds. Unfortunately for him, after a perfect first day where he boasted an all-wins record, Jighere succumbed to jet lag and finished 11th in Malaysia. But he wasn't done yet.
The Path to Perth
In 2011, Jighere began to study Crop Science at the University of Benin, winning his second African Scrabble Championship that same year. He completed the degree in 2015 and was to join up with the National Youth Service Corps scheme when a wonderful opportunity arose; representing Nigeria at the 2015 World Scrabble Championship in Perth, Australia.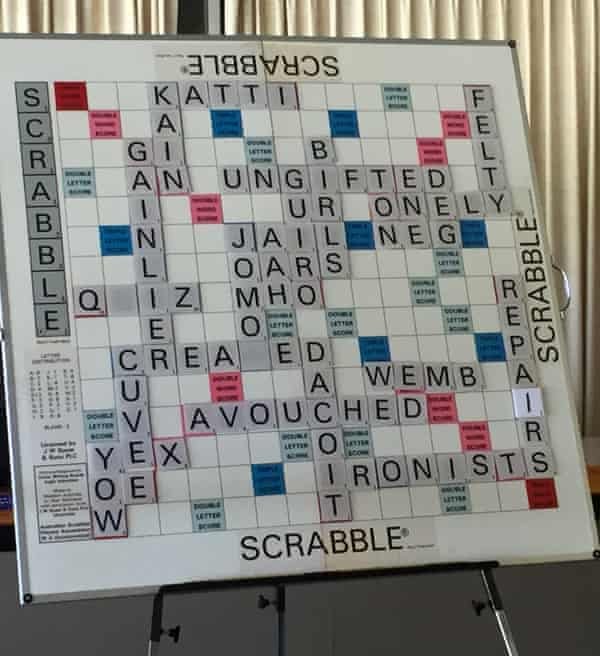 According to him, it was an all-or-nothing situation. He could either go for the mandatory one year of service or take one more shot at Scrabble's top prize and then bow out. You can guess what he went for. After intense training and preparation, the six-man Nigerian team which included experts like Eta Karo and Emmanuel Umujose soon left for Australia.
The long flight to the Land Down Under meant certain jet lag for the Nigerian players. However, unlike in 2009, Mr Wellington was ready for it. Participation in marathon Scrabble events (he's a 4-time winner of Scrabuthlon – a 50-game stretch Scrabble contest), as well as his personal fatigue training, meant that he was able to bear the brunt of the lack of sleep. In an interview with Black Economics, a US-based media body, he related how he slept roughly two hours per day for all 5 days spent in Perth.
Jighere cruised to the top of the standings in no time and was drawn against Lewis MacKay of New Zealand in the final. 4 was the lucky number. 4 games were all he had to win if he was going to be crowned the best in the world. In the first game, Jighere kicked off with LENVOY (a sort of postscript appended to a literary competition) and ended up winning by 529 to MacKay's 398. In the second, they traded bingos (playing all 7 tiles at once to form a word) like ASTHORE and BLINGIER for Jighere and CONTROLE for MacKay; Jighere won by 28 points. It was another win for Mr Wellington in the 3rd game where he bingoed with odd words like QUOITERS and ADAGIAL to win by over 100 points.
Game 4! All the signs pointed to a clean sweep for the Nigerian as they traded words. MacKay played the word AVOUCHED; Jighere played GAINLIER and a 93-point QUIZ play. MacKay came through with a 66-point ZOMO. With the eyes of his peers and the weight of an entire continent on his shoulders, Jighere placed the letters F E L T Y on the board for 36-points, enough to be crowned winner of the much-coveted trophy and $10,000 in prize money. As he emerged from the secluded playing area, he was immediately greeted with hugs and congratulations from countrymen, other players, and just about everyone present. Even the President of Nigeria called to congratulate him on his victory; a memory he says will never be forgotten.
A World of Uncertainties
Sometimes, the world can crumble around a person so fast that it's almost impossible to believe we lived the lives we did. One minute you're on a direct line to the Aso Villa and the next you're contemplating your next move from an old bedroom on the outskirts of Lagos with worry etched into your face.
Such was Jighere's fate in March 2021; the COVID-19 pandemic haven brought the Scrabble industry to a standstill. This brought a huge loss of revenue to him in particular. In an interview with Oris Aigbokhaevbolo for a Washington Post article, Jighere revealed the gravity of his situation and how he regrets having not done much beyond the four corners of the 225-square board game. He had even tried to retire from the sport in December of 2020. And who could blame him? Bills had to be paid, moves had to be made, and the beautiful game invented by Alfred Butt just wasn't cutting it.
     A glimmer of hope would eventually shine in form of the National Sports Festival held in April. There, Jighere won the silver medal in Male Scrabble, and subsequently, a share of the 456 Million Naira promised to the Delta State medalists by the State Government.
Perhaps, that incentive proved effective in convincing him to stick to the sport he so clearly loves. As of December 2021, he participated in the Champion of Champions Scrabble Tourney, although he lost the finals to the then Nigerian Championship holder, Olatunde Odewole.
As a way to give back to the society, Jighere set up the Wellington Foundation for Scrabble and Mind Development in Africa. According to him, the organization aims to maximize the use of Scrabble, Chess and similar games as tools for mental capacity building and development for individuals across the continent.
Hopefully, Wellington Jighere will remain a force to reckon with in the scrabble circuit for years to come. I wouldn't mind him winning one or two more World Championships to further cement himself as an icon of this amazing game.
John Eriomala
Sources:
Wikipedia
The Guardian
The Washington Post
Black Economics TV
Great Big Story
Voice of Nigeria