In many different languages in countries around the globe, World Teachers' Day celebrates the essential role educators play in teaching and nurturing students of all abilities at all levels of their academic careers.
Held annually on 5 October since 1994, World Teachers' Day (WTD)  commemorate the anniversary of the adoption of the 1966 ILO/UNESCO recommendation concerning the status of teachers. This recommendation sets benchmarks regarding the rights and responsibilities of teachers, standards for their initial preparation and further education, recruitment, employment, teaching and learning conditions. The recommendation concerning the status of higher education teaching Personnel was adopted in 1997 to complement the 1966 Recommendation by covering teaching and research personnel in higher education, UNESCO Almaty Office official website reads.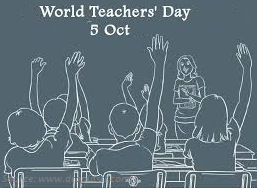 With the adoption of the Sustainable Development Goal 4 on education, and the dedicated target (SDG 4.c) recognizing teachers as key to the achievement of the Education 2030 agenda, WTD has become the occasion to mark progress and reflect on ways to counter the remaining challenges for the promotion of the teaching profession.
As we celebrate World Teachers' Day this year, we take this occasion to remind the global community that "The right to education means the right to a qualified teacher."
This theme was chosen to mark the 70th anniversary of the Universal Declaration of Human Rights (1948), where education is recognized as a key fundamental right. A right that cannot be fulfilled without qualified teachers.
One of the main challenge to this right worldwide is the continued shortage of teachers. There are an estimated 264 million children and youth still out of school globally, and according to the UNESCO Institute of Statistics, the world needs to recruit almost 69 million new teachers to reach the 2030 education goal of universal primary and secondary education. This 'teacher gap' is more pronounced among vulnerable populations – girls, children with disabilities, refugee and migrant children, and poor children living in rural or remote areas.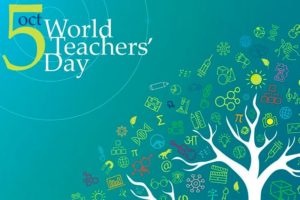 To address the challenges facing the Nigerian educational system, below are 15 ideas that teachers (meant to be worthy mentors) could use to help in building their students (their mentees) to actually become leaders of tomorrow on a global scale:
Educate for democracy
Stimulate critical thinking
Shape global citizens
Protect the right to learn in one's native language
Burst internet bubbles and value privacy
Embrace new technologies with prudence
Question standardized testing
Keep schools safe sanctuaries of learning
Oppose segregation
Fight discrimination on grounds of gender, religion, ethnicity, disability and social background
Build resilience when inequality muffles voice
Protect education for the common good
Stand up for your rights
Insist on the application of international standards
Be proud of your profession.
Trained and qualified teachers are fundamental to the right to education.
World Teachers' Day is co-convened in partnership with UNICEF, UNDP, the International Labour Organization, and Education International.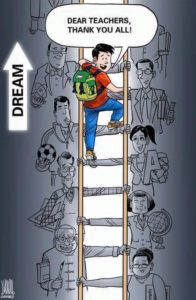 By Onyedika Chukwuelobe