The much anticipated hand over and swearing in of the newly elected executives, senate and congress officials finally took place on Saturday, the 8th of September 2018 and it was indeed a sight for sore eyes!
The event marked exactly a year since the outgoing executives were sworn in, their tenure having witnessed so many ground-breaking innovations in the leadership of UIMSA. In typical fashion, the marathon meeting spanned over 6 hours with deliberations, reports and elections. There was no shortage of drama, controversy and suspense as events played on the floor of the legislators in theatrical fashion.
Controversy was never far from the headlines and ensued when the legislators decided to revise the electoral result after consulting Article XIX, section 16 of the UIMSA Constitution, which states that 'The candidate with the highest number of votes or with more Yes votes than No votes shall be deemed to have been fully elected. The house voted 30-23 to use the highest number of 'yes' votes as the deciding factor for the elections in place of the net votes. This motion meant that certain senators who were already declared winners based on the Net (yes – no) were no longer elected.
This was perceived by neutrals as another show of political shenanigans with ulterior motives as voters had cast their votes with the idea that the net votes would count.
After the reading of reports by the various committies in the association of their activities in the past fiscal year, it was finally time for the hand over. It was then time for the highlight of the ceremony.
The outgoing sub-dean, Dr. T. A. Lawal briefly addressed the newly inaugurated officials after the oaths of office had been recited. Thereafter, his predecessor, Dr. Oluwasola, spoke promising full cooperation and openness while expecting the same from the officials. The outgoing officials were all smiles as they were rewarded with plaques of honor for their meritorious service.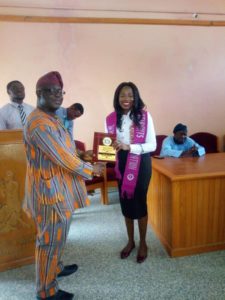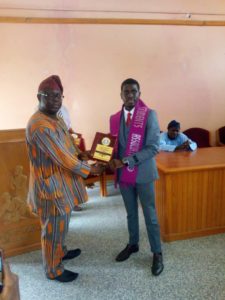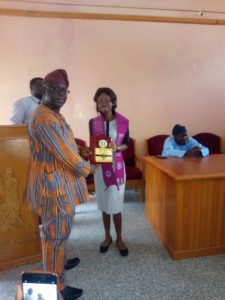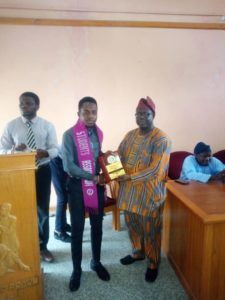 Honourable Chinedu Nwaduru emerged the Congressman of the year, while former Deputy Congress Chancellor, Ukachukwu Chika,  was awarded the Congress leader of the year. Ex-president Olakorede Jacob then rendered a heart-warming speech listing the ground-breaking milestones achieved by his team of PACESETTERS, while advising his predecessors on how to go about their endeavours threading with caution.
Then to round things up it was then time to elect the new leaders of the senate and congress and history was made as senator Anyanwu Roseben became the first female president in the history of UIMSA while Honourable Ukachukwu Chika became only the second ever Congress chancellor, the first being Dr. Lagunju Mofe 2 years earlier .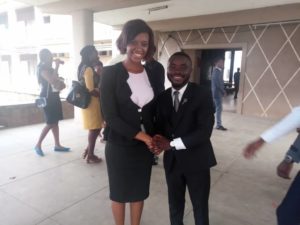 Finally, time came to adjourn the meeting, the honorables all heaving a sigh of relief and leaving to get their much needed rest after long hours of deliberations, commendations and recommendations. It was indeed a day to remember as it made the headlines for both right and wrong reasons.
The results of the elections are as follows:
CONGRESS
Scribe : Ogunleye Olorunda
Chief Whip: Onumeguolor Joseph
Deputy Chancellor : Obaitan Irete
Chancellor: Ukachukwu Chika
SENATE
Chief Whip: Ojo Oluwadamilare
Deputy Senate Registrar: Ibrahim Gladys Zugwai
Senate Registrar: Ebubechukwu Eriobuna
Deputy Senate Chairman: Oniyide Segun
Senate chairman: Anyanwu Roseben
By The Political Insider