The draw for the Champions League last 16 stage will take place midday on December 17, 2018 at the headquarters of UEFA (in Nyon, Switzerland) with many of Europe's elite awaiting their fate.
In the round of 16 draw, 8 group winners are seeded, and the 8 group runners-up are unseeded. The seeded teams are then drawn against the unseeded teams, with the seeded teams hosting the second leg.
There are only two conditions that determine the draw: no team can play a side they shared a group with, or any side from the same country.
Seeded Teams (Group Winners):
Borussia Dortmund
Manchester City
Barcelona
PSG
Porto
Real Madrid
Bayern
Juventus
Unseeded Teams (Runners-up) :
Atletico Madrid
Tottenham
Liverpool
Schalke
Roma
Ajax
Manchester United
Lyon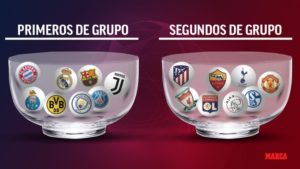 The Champions League will resume with the first leg of the round of 16 ties scheduled to take place on February 12-20 and the return games being played between March 5-13.
*Teams that qualified for Europa round of 32:
Napoli
Club Brugge
Inter Milan
Galatasaray
Benfica
Shaktar Donetsk
Plzen
Valencia
BY ONYEDIKA CHUKWUELOBE