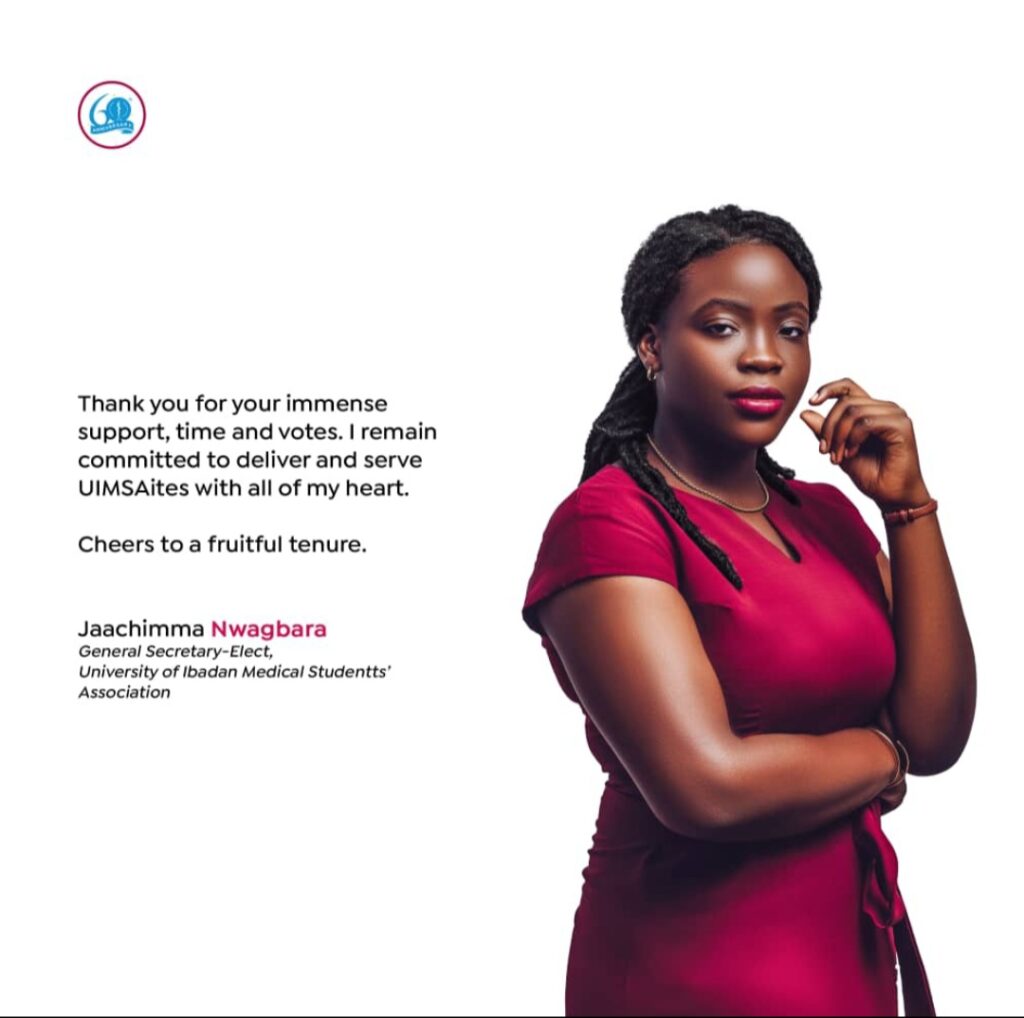 Interviewer: Please introduce yourself.
UIMSA General Secretary: My name is Jaachima Nwagbara. I'm a 500-level medical student, an Igbo young lady from Abia state. I grew up in the northern part of Nigeria, Kaduna state to be precise. I am currently serving the Association as the General Secretary.
Interviewer: How was life like growing up as an Igbo girl in Kaduna?
UIMSA General Secretary: Well, I think just the fact that I wasn't exposed to my culture a lot. Nobody around me was speaking the language or upholding the culture. Also, there was the insurgency that was pretty scary at the time but overall, it was a fun experience with a lot of dear memories.
Interviewer: So, you can speak a little bit of Hausa I presume?
UIMSA General Secretary: Honestly, I can't speak Hausa. Even in school we weren't allowed to speak any 'vernacular'.
Interviewer: Alright. Congratulations on becoming the General Secretary of UIMSA.
UIMSA General Secretary: Thank you very much.
Interviewer: How has your few days in office been like?
UIMSA General Secretary: It's just been a few days after our inauguration and it has so far been going well. We have a lot of work to do but we are currently just taking baby steps and doing what we have to do when we have to do them.
Interviewer: Could you tell us more about your roles as General Secretary in UIMSA?
UIMSA General Secretary: As the General Secretary, I am the correspondent of the Association so I am responsible for all the documentation and information that involves the association. I am largely in charge of the secretariat. I'm responsible for keeping minutes during meetings and then share it with the senate if need be. My other plans include working on the research clinic with a research prize. I also plan to begin the process of curating an electronic secretariat for better storage and easy access.
Interviewer: What is one thing you think UIMSAItes largely misunderstand?
UIMSA General Secretary: Many UIMSAites feel they are not fully part of the association. I think it's something very common when you are supposed to be leading people. When there is no proper communication, there is a feeling of being left out and not having their opinions matter and it can cause withdrawal and apathy. This is something effective communication can quickly put an end to.
Interviewer: What challenges can you envisage as a newly elected executive?
UIMSA General Secretary: So many challenges are already on my mind but I think the primary one is delay of physical resumption. There are a lot of activities and programs in my office that involves one on one interaction or are dependent on offline meet up. There's also the problem with money because we need money to run an association effectively. One particular challenge that has also been on my mind is making sure the association has a bus.
Interviewer: How do you hope to overcome these challenges?
UIMSA General Secretary: I have tried to divide my solutions into 2 parts. The ones that cannot be done virtually will have to wait while all plans that can be done without physical resumption like creating a communication channel for UIMSAites so that information can be passed out conveniently can be carried out.
Interviewer: It's a common path for the General Secretary to go on to become President and given that UIMSA hasn't had any female president in its record, do you feel pressured to take this same path or is it something you are interested in?
UIMSA General Secretary: I would definitely like to run for President but that was not the sole reason I wanted to become the General Secretary. I saw being the General Secretary as a good learning process for me.
Interviewer: What keeps you motivated?
UIMSA General Secretary: I genuinely love UIMSA and I don't see myself serving any other association. I love the whole structure from small things like class programs to senate meetings, congress meetings, everything is just beautiful to be a part of. That's really what keeps me motivated because there are honestly no monetary gains from it.
Interviewer: What are the benefits you have gotten from serving in UIMSA?
UIMSA General Secretary: Like I said there is no money. It has been an important learning process for me and I have always believed in seizing learning opportunites even when there is no financial gratification. It has widened my horizon, I've met wonderful people and also developed myself in ridiculous ways from learning how to source for funds to planning events effortlessly. It has also given me some life connections that I am so grateful for.
Interviewer: Can you kindly mention some of your role models in the world of 'politics'?
UIMSA General Secretary: Coming into University from Kaduna state, I hardly knew anyone but I met such great people starting with my predecessors in this game that I admired and looked up to. I got to really learn under people like Dr. Yahya, Dr Nwaduru, Senator James, Boluwatife Aderounmu, Dr Segun Afolaranmi and Olaoluwa Olorunfemi (the current president). I really had the opportunity to see them in action and they did really exceptional works.
Interviewer: How have you managed to balance it all?
UIMSA General Secretary: I've never been someone that just does one thing. I always believe that you have to be a doctor plus other things because there are tons of doctors graduating every year so you should strive to be more. It is also about understanding how to prioritise what is important at a time so when I'm taking on new roles, I drop other roles so that I am not taking on too much or overworking myself.
Interviewer: Outside UIMSA and academic activities what else would you be caught doing?
UIMSA General Secretary: I would probably be caught exploring the city. I like going out and trying new places. It could be to eat out, see a movie or just go to a park.
Interviewer: How was 2020 for you with the pandemic and everything else that happened?
UIMSA General Secretary: Woah! 2020 was a rollercoaster. It was so fast and unbelievable. There was a 6-month gap that I cannot account for (laughs).
Interviewer: How do you plan to increase UIMSAites' awareness and participation in activities?
UIMSA General Secretary: There is actually a lot of apathy. Having spoken to some of my classmates, there is general disinterest because medical students are already very preoccupied with school work itself and also other hustles and some people are also just not informed so they might have interest but they don't know what they are supposed to do or how to go about it. What we can do is to publicize the details and knowhows of the association appropriately through the press or any other possible means. Trust me, it is really easy to fall in love with UIMSA when you go into it.
Interviewer: So, I will like to ask you a few random trivia questions.
UIMSA General Secretary: Okay, sounds fun.
Interviewer: Omotola or Genevieve?
UIMSA General Secretary: Genevieve.
Interviewer: Chimamanda Ngozi Adichie or Ngozi Okonjo-Iweala?
UIMSA General Secretary: Wow! Okonjo Iweala
Interviewer: Wizkid or Davido?
UIMSA General Secretary: Davido!
Interviewer: If you were to be an animal, which would it be and why?
UIMSA General Secretary: I don't like any animal. Even turkeys have stressed my life. Maybe I will be a lion so that nobody can kill me.
Interviewer: (laughs) Even dogs and cats?
UIMSA General Secretary: I've had so many bad experiences with them growing up. So they should stay away from me please.
Interviewer: Would you rather be without elbows or be without knees?
UIMSA General Secretary: I need my knees. I can do without my elbows.
Interviewer: Lastly, do you have any general advice to UIMSAites?
UIMSA General Secretary: My dear UIMSAites, I genuinely love you all. Stay strong and always remember you are set apart for greatness.

Interviewer: Thank you for your time Miss Jaachi. I wish you the best of luck in your endeavours
UIMSA General Secretary: I really enjoyed this interview thank you.
This interview was conducted by Miss Chika Nnawuogo