Here's everything you need to know about Game of Thrones Season 8, the final season of everyone's favorite HBO fantasy drama.
All men must die. This gruesome turn of phrase is just as unavoidable for platinum haired television shows like our dear Game of Thrones as it is for members of House Stark and Lannister. But that is still hard to accept, especially if you've already swon fealty to HBO's biggest series of all time.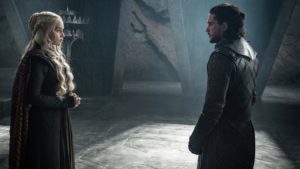 Nevertheless, there are good tidings as well out there in the snow since Game of Thrones Season 8 might consist of only feature-length episodes. For context, the only Game of Thrones episode to run that long was the season 7 finale, which barely made the cut at 80 minutes flat. So there are good and bad tidings to anticipate as our watch continues.
While we don't have the exact date just yet, we now know the month of the Game of Thrones Season 8 premiere. The series is returning to its traditional April release window. Since Easter Sunday is April 21, could that be the date of the Game of Thrones Season 8 resurrection? Or will HBO choose to drop the new season on the 28th instead? We should know soon…
There is no official Game of Thrones Season 8 trailer but HBO did offer a very brief sneak peek at some footage of the upcoming season.
'Game of Thrones', which has won multiple Emmy awards, is HBO's biggest hit ever with some 30 million viewers in the United States and an army of devoted fans worldwide.
Several spinoffs of the series are in the works . HBO, owned by AT&T Inc, said in June that it had given a pilot order to a prequel that will take place thousands of years before the events of the current series.
Culled from denofgeek.com