While Nigerians revel over the scrumptiousness and ground-breaking feats of their Jollof as well as the diversity and richness of their music and culture, the Ghanaian Minister for Railways Development, Mr. Joe Ghartey has gone on to sign a Memorandum of Understanding (MoU) with the Africa Investment (AI) SkyTrain Consortium, in South Africa, for the construction of the Accra Sky Train Project.
The MoU was signed on the 8th of November, on the sidelines of the ongoing Africa Investment Forum in Johannesburg, South Africa. The Minister stated that the construction of the project will be a major step towards finding a panacea to Accra's ever-increasing road traffic congestion, coupled with its detrimental effects on economic activity, pollution and the quality of life. He also stated, "We are also exceptionally excited by the fact that a lot of the construction works will be done in Ghana. It will create a lot of jobs in Ghana, because the fabrication and construction will all be done in Ghana."
"We have signed a MoU which will last nine months, where they (Ai SkyTrain Consortium) can do their feasibility into detail. After which, we have given ourselves 45 days to take our concessionary agreements for approval by Cabinet and also by Parliament. By January 2020, we should start the construction of the project. There is confidence in the project. The promoters (Ai SkyTrain Consortium) are very serious, and that is why we invited the President, himself, to witness the signing. This should assure the investors that Government is solidly behind it. The economics of this project are also good. We are very excited about the prospects." the Railways Minister said.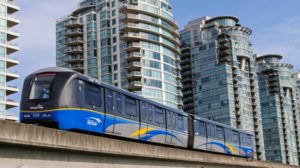 The President of the Federal Republic of Ghana, President Akufo-Addo said that after the deterioration of Ghana's rail infrastructure over the years, "it has become a priority of our government to rehabilitate, revive and expand, and get us a railway infrastructure that is fit for purpose."
The African Investment SkyTrain Consortium comprises Wilson Bayly Holmes (WBHO), a construction engineering company in South Africa; the BUNENGI Group, a project development company in infrastructure; and Ai Capital, the investment and financing arm of Africa investor (Ai) Group, an international investment banking advisory group focused on Africa.
BY DANIEL ANIMASHAUN