The University of Ibadan Medical Students' Association, today 8th of June, 2022, issued a directive on payment of dues, directing all its members to pay the UIMSA dues on or before Saturday, July 30, 2022.
The directive was contained in a release signed by the Congress Chancellor, Hon. Chiamaka B. Offorbuike and the Congress Scribe, Hon. Rebecca O. Ogunnaike.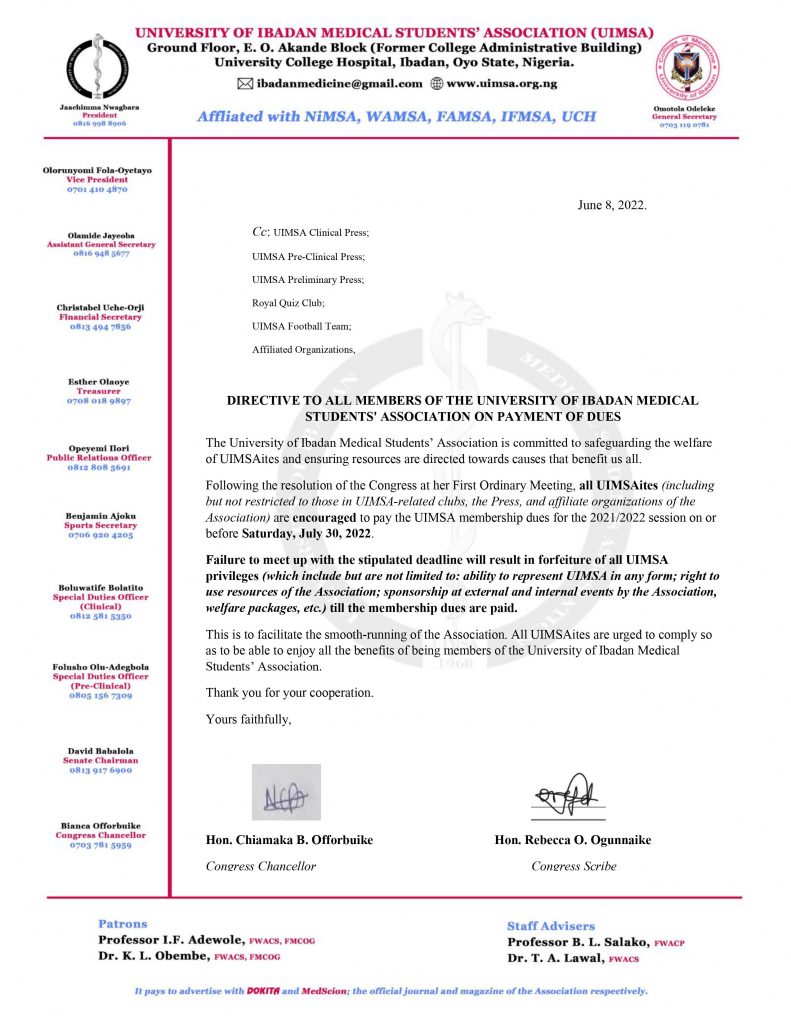 The decision was made by the Congress at her First Ordinary Meeting and it read thus "Following the resolution of the Congress at her First Ordinary Meeting, all UIMSAites (including but not restricted to those in UIMSA-related clubs, the Press and affiliate organizations of the Association) are encouraged to pay the UIMSA membership dues for the 2021/2022 session on or before Saturday, July 30, 2022."
Furthermore, the release stated the consequences of not meeting up with the deadline. It states "Failure to meet up with the stipulated deadline will result in forfeiture of all UIMSA privileges (which include but are not limited to: ability to represent UIMSA in any form; right to use of resources of the Association; sponsorship at external and internal events by the Association, welfare packages, etc) till the membership dues are paid".
Members of the Association were finally urged to comply with the directive to enable the smooth running of the Association and enjoy all membership benefits.
Samuel Olowolayemo